Wiping off nearly Rs 4 lakh crore of investors' wealth during the day, benchmark Sensex crashed on Friday.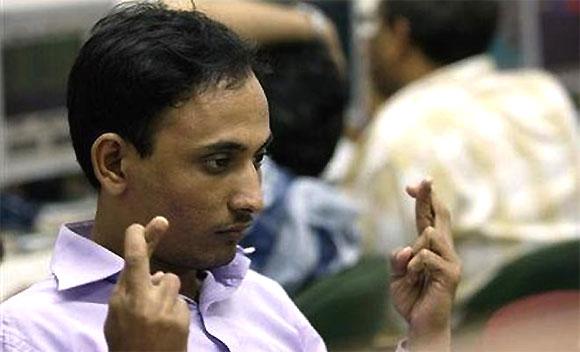 Hit by tremors of Britain leaving the European Union, domestic stocks are likely to see "choppy" trading in the next few sessions before a moderate recovery, which will also depend on progress of monsoon, say experts.
Still, the "correction" in the markets presents long-term buying opportunities for investors till normalcy returns once dust settles down on the overall Brexit impact, they added.
Wiping off nearly Rs 4 lakh crore of investors' wealth during the day, benchmark Sensex took a big 1,058-point plunge in the morning on Friday as it became clear that Britain would be leaving the EU, a development that also sent global markets into a tizzy.
"We believe that as the dust settles, markets will revert to normalcy with a moderate recovery," said Dhananjay Sinha, head, Institutional Research, Economist & Strategist, Emkay Global Financial Services.
"In that scenario, we see markets trading sideways and economic uncertainty lingering on as the UK works towards re-establishing its global economic relationship, which is likely to take at least a couple of years," he added.
Soon after the markets opened this morning, heavy selling was seen across all sectors, including realty, industrials, metals, auto, banking, finance, capital goods and power, as Brexit news began to pour in.
"We see Brexit as a buying opportunity in the long term. While it is difficult to predict market movement in the short term, recent correction offers a long-term buying opportunity for investors. There will be concerns if monsoon turns adverse, (and) not Brexit," said S Naren, ED and CIO, ICICI Prudential AMC.
"We believe a normal monsoon is one of the most important factors for the markets."
SAMCO securities, CEO, Jimeet Modi, said that while markets are jittery, this is a god-send event, especially for Indian investors.
"While we saw a steep fall in the indices, the trajectory of Indian markets remains upwards. After some stability that will come next week, investors should be lapping up good quality stocks," he noted.
According to him, stocks of IT and other companies which have significant revenues coming from Europe and the UK will be affected. They may be avoided as the extent to which the pound will be impacted will be unknown, he added.
In a development that would have far-reaching consequences for Europe as well as the global economy, Britain has voted to exit the 28-nation EU.
"Brexit has come as a shocker to markets who were expecting Britain to remain in the EU. There was mayhem in global markets as the news trickled in though some semblance of normalcy came in the final hour of trading," said Hariprasad M P, senior vice-president & head Treasury & Banknotes Business, Centrum Direct.
"In the days to come, markets are bound to be quite choppy and volatile till more clarity emerges from the UK and the EU."
After recovering some ground, the Sensex still ended the day with a sharp loss of 604.51 points at 26,397.71.
"Though Indian economy is unlikely to have a major direct impact, it will certainly influence the liquidity to the EMs like India during such global chaos. This will downgrade the FII inflows and depreciate the rupee," said Vinod Nair, head of Research, Geojit BNP Paribas Financial Services.
HSBC Global Research said the exit of Britain from the European Union might not have a major impact on Asian economies as most of them have minimal trade exposure to the United Kingdom.
"Britain may have voted to exit the EU and markets are in a tizzy, but Asia should come through this episode with only a few scratches. The trade exposure to the UK is minimal for most Asian economies, and risks to direct bank financing from UK financial institutions appear manageable," it said in a report.
However, the impact of currency swings, in particular a stronger yen, is harder to judge, tightening financial conditions for emerging markets in the region, it added.
Noting that Asia is in a reasonably strong position to withstand the latest tremors from Europe, HSBC Global Research said broadly the impact should prove manageable.
"The fragility of the West, economically as well as politically, is a reminder that Asia can't count on an export rebound any time soon to lift ailing growth. Reforms are urgently needed to put local demand growth on a more sustainable path. Time to get to work," the report noted.
Fitch Ratings said the development is credit negative for most sectors in the UK due to weaker medium-term growth and investment prospects and uncertainty about future trade arrangements.
"Failure to agree favourable trade arrangements would also be a significant negative for some sectors. The UK's status as a major international banking hub could be damaged as some business lines shift to the EU.
"Higher import costs and pressure on exports due to the potential imposition of tariffs would be broadly negative for corporates. The extent to which the UK would be able to limit net inward migration could be significant for some asset classes," Fitch said in a report.