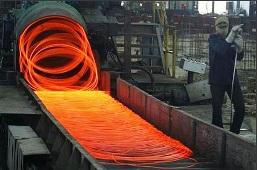 Projects proposed by steel players who have signed memorandum of understanding with the Odisha government are set to go under the scanner soon.

The state steel & mines department intends to conduct a comprehensive review of such projects after the end of the state assembly's monsoon session, which is scheduled to be held from August 28 to September 7.

"We are going to have a detailed review of all MoU signed steel projects after the end of the assembly session. We will call all project proponents to review their status", said steel & mines minister Rajniikant Singh.

"The state government has signed MoUs with 49 steel players of which 30 have started partial production", he said.

The minister admitted that delay in acquiring land had held up big ticket investments in steel sector like Posco India and ArcelorMittal.

On the prevailing uncertainty on the 12 million tonne greenfield steel plant proposed by ArcelorMittal, he said, "The mega steel project has been delayed but ArcelorMittal has not given anything in writing to suggest that it is going to withdraw."

Mega steel mills proposed by Posco India and ArcelorMittal have been stuck
in the quagmire of delay, battling protests over land acquisition.
Though the state government had acquired 2000 acres of land for the Posco project, the company had actually taken possession of around 500 acres.
The South Korean steel maker recently said that it was ready to put up a eight million tonne per annum (mtpa) steel plant on receipt of 2700 acres of land and subsequently expand capacity to 12 mtpa after getting the remainder land. The biggest foreign direct investment project needed 4004 acres of land.
Among mega steel developers, Bhusan Steel had achieved a capacity of three mtpa at Meramandali in Dhenkanal district.
The company has also firmed up plans to raise steelmaking capacity to nine mtpa at an incremental investment of Rs 11,000 crore (Rs 110 billion).
The steel maker has already submitted its detailed project report prepared by Mecon Ltd for the expanded capacity..
According to latest official data, the steel sector has witnessed grounding of investments of Rs 56,090.34 crore (Rs 560.9 billion).
As many as 30 steel firms have started partial production, achieving a steel capacity of 8.66 million tonne per annum out of the total envisaged capacity of 83.66 mtpa and Captive Power Plant generation of 1069 MW.