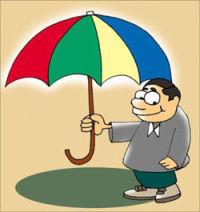 Star Union Dai-ichi Life Insurance Co, a joint venture between Bank of India, Union Bank of India and Japan's Dai-ichi Mutual Life Insurance Company, expects to break even within five years of starting operations.

Managing Director and Chief Executive Kamalji Sahay, in an interview with Niladri Bhattacharya, says despite pulling out of pension products, which accounted for nearly 52 per cent of its sales till August 2010, the company is expected to post 36 per cent growth in new premium collections in 2010-11.

Edited excerpts:

Since the Insurance Regulatory Development Authority introduced new norms on unit-linked policies, the growth rate of life insurance companies has taken a back seat. Being a relatively new company, how difficult has it been for Star Union Dai-ichi Life Insurance to get used to the new scenario?

There is no denying that after September 1, when Irda introduced the new norms, there has been an adverse impact on the industry. Currently, private life insurance players are growing by only 4 per cent on a year-on-year basis, compared with more than 25 per cent growth till August. This is primarily because every company had to redesign their products.

It will perhaps take another quarter for the industry to recover. However, in the long run, these steps will benefit the entire insurance sector.

Pension products accounted for nearly 52 per cent of new premiums for our company, so there has been an impact.

We have not introduced any new pension product after Irda introduced the new norms. We are waiting for the revised guidelines for pension plans, which Irda is expected to bring out soon.

Given the changes in regimes, how do you plan to place Star Union Dai-ichi in the coming years?

Going ahead, we believe product innovation would be the key. We need to market traditional products in a much bigger and a more focused manner. Keeping this in mind, we are planning to develop channels outside the bancassurance route.

We are diversifying into the agency channel in a much bigger way, for which pilot projects have started in in Bihar and Assam. We have already set up 20 branches across the country and going forward, we would recruit 5,000 agents.

There will also be greater focus on traditional products, which currently account for 8 per cent of the total premiums and 20
per cent of the number of policies sold. We are also planning to increase our headcount from the current 1,350 to 2,000.
What kind of new products can we expect in the next financial year?


We would continue the Reverse Mortgage Loan-enabled Annuity Plan, under which we have already collected more than Rs. 12 crore (Rs. 120 million). Our target is to generate at least Rs. 100 crore (Rs. 1 billion) through this plan next year.
We would sign memorandums of understanding with Union bank, Bank of India and Central Bank of India to market the product.
We would launch a small unit-linked plan for farmers under 'Dhan Suraksha Green'. The minimum premiums under the plans will be Rs. 10,000 annually.
We are also planning to launch a women-specific product and create a team to sell insurance to women.
The long pending Insurance Bill is finally expected to see the light of the day. When do you see Dai-ichi increasing its stake in the company to 49 per cent?


The Act is important for the insurance sector. But for us, nothing will change immediately, since under the original agreement, the shareholding pattern of the company will not change for the first five years.
We secured the licence from Irda on December 2008. So if at all anything has to happen, it would only be in 2014.
When do you see your company breaking even?


When we started, we had set ourselves a target of five years to break even and we stand by it. We have already started booking profits in traditional business.
Our loss ratio is declining every quarter and our expense ratio, at 14.09 per cent of premiums, is among the lowest in the industry. So there is no reason why we should not break even within five years of operation, if not earlier.
How do you see your business growing in the next financial year? What is your persistency ratio?


Overall, we should grow by 36 per cent in the current financial year to Rs. 650-700 crore (Rs. 6.5-7 billion) in terms of new premium collection, This will take our total assets under management to Rs 1,500 crore (Rs. 150 billion).
In the next financial year, we are targeting a first year premium of Rs 1,100 crore (Rs. 110 billion). We have already achieved 65 per cent persistency and are aiming at 75-80 per cent persistency by the end of the next financial year.