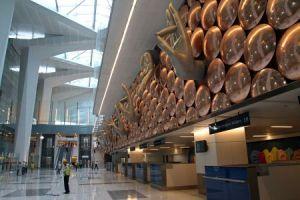 Airports at Delhi and Mumbai would be developed as 'seamless hubs' by the 27-member airline grouping Star Alliance and work on it may start next year itself, a top alliance official has said.
"We are looking at developing Delhi and Mumbai as our seamless hubs for transfering passengers with ease from international to domestic flights, domestic to international and international to international," Star Alliance vice president (customer experience and IT) Justin Erbacci told reporters in Frankfurt.
Noting that the Alliance partner Air India's support would be required for establishing a hub at its home country, Erbacci said a decision on whether Delhi or Mumbai airport would be developed first was expected to be taken by the year end.
He said the seamless hub project would normally take 6-8 months to be completed.
Apart from Air India, the implementation of the airport hub project would involve the airport authorities, other Star Alliance partner airlines which operate from the two airports and ground handling agencies, among others, to make it easier for smooth transfer of passengers from one flight to another.
Months after launching London Heathrow's Terminal-2 as its new hub, the Star Alliance is also planning to expand its 'seamless hub' project next year in cities like Sao Paulo, Narita and Los Angeles, apart from Delhi and Mumbai, he said.
With 24 of the 27 member airlines now located at London's Terminal-2 hub, Star Alliance was "now working on shifting Air India from Terminal-4 to Terminal-2.
They (Air India) have requested (Heathrow) authorities for this transfer and we have also built a case for them.
"The authorities are considering the request," the alliance official said.
Asked about the benefit Air India would get by transferring to the Star Alliance's Heathrow hub, he said, "the connection time (from one flight to another), which is now about two hours, would come down to 60 minutes if Air India shifts to our hub."
The alliance already has hubs at airports like Frankfurt, Chicago, San Francisco, Houston, Newark, Toronto, Istanbul, Johannesburg and Cairo, besides Beijing and Bangkok in Asia.
Facilities like lounge access for Star Alliance business or first class travellers, through check-in to final destination, airport signages and streamlining of baggage handling would be provided at these hubs as 'customer satisfaction is the topmost priority,' he said.
Image: The T3 terminal in the Delhi airport; Photograph: Reuters