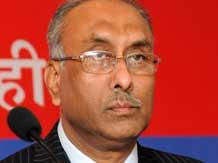 Commercial banker Subhash Sheoratan Mundra has assumed office as the fourth deputy governor of the Reserve Bank on Thursday for a three-year term.

Mundra, who led the country's second largest lender Bank of Baroda as chairman and managing director, confirmed the development, saying he has taken charge on Thursday.

However, an official notification from the Reserve Bank or the government is awaited.

Mundra fills the vacancy created by the retirement of KC Chakrabarty in April, two months before his five-year tenure was come to an end.

He was to retire from BoB on Thursday following superannuation.

Mundra, 60, takes over as the fourth deputy governor of the central bank after Urjit Patel, HR Khan, and R Gandhi. Of the four deputy governors, one is hired from the banking sector, one an economist and two from the RBI itself.

Born in July 1954, Mundra has a Masters degree in commerce from the University of Pune, and is also a certified associate of the Indian Institute of Banking & Finance.

He started his career with Bank of Baroda in 1977 as a probationary officer.

Though a search panel headed by Governor Raghuram Rajan interviewed nine state-run bank chiefs, only PNB chairman KR Kamath and Mundra made to the final list for the position when the headhunt began in April after Chakrabarty had quit before term, citing personal commitments.

Others who were in the initial race included Bank of India chief VR Iyer, Uco Bank chief Arun Kaul, Oriental Bank of Commerce's SC Bansal, Indian Bank head TM Bhasin, Dena Bank chief Ashwani Kumar, Indian Overseas Bank's M Narendra and Canara Bank's RK Dubey.

Mundra took charge as the head of BoB in January 2013. Prior to his elevation, he was an executive director with the state-run Union Bank of India.

Prior to that, he had also held key leadership positions such as the zonal head of the Maharashtra & Goa zone of BoB apart from being the chief executive of BoB's UK British operations for three years till 2008.

Earlier in July, RBI had extended deputy governor HR Khan's term by two years. In April, the government had elevated R Gandhi as a deputy governor for a three-year term, to succeed Anand Sinha who retired in the month.

The central bank is reportedly planning to have one more deputy governor, which would need a change in the rules.

Till the time this is done, RBI has proposed to appoint an officer on special duty or chief operating officer with the rank of a deputy governor.

But the government is yet to take a call on any of these proposals.

Normally, an RBI deputy governor can be appointed for five years or till the age of 62, whichever is earlier. To be eligible for the post, a candidate needs to be less than 60 years of age while assuming charge.
Image: SS Mundra; Photograph courtesy: Business Standard