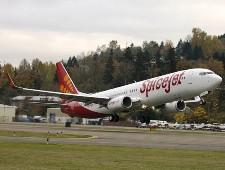 Key shareholders of low-cost airline SpiceJet have rejected an offer by the Reliance ADA Group to pick up a 51 per cent stake in the airline for Rs 40-45 per share. The offer was made last week.
The company's share price was Rs 63 at the close of trading on Friday at the Bombay Stock Exchange.
The price offered by Reliance is, thus, about a third lower than the prevailing market price at which the company's shares closed at the Bombay Stock Exchange on Friday.
Senior executives in the know of the ADAG offer said the key shareholders wanted Rs 60-70 per share. ADAG had approached both W L Ross India (a private equity investor) as well as the Kansagara family to buy out their stakes.
The ADAG offer is higher than that of another suitor, Sun TV promoter Kalanithi Maran. He had offered to buy a similar stake at Rs 39 a share. This would have valued the company at Rs 950 crore (Rs 9.5 billion).
The Religare group, promoted by brothers Malvinder and Shivinder Singh, had also shown interest in the airline, though details are not available.
Shareholding pattern percentage of stake
12.89 Kansagara family
4.15 Ajay Singh
3.27 Avanthi Shah
3.26 IDFC Premier Equity Fund 
3.05 Sundaram BNP Paribas Mutual Fund A/c
Sundaram BNP Paribas
2.25 Goldman Sachs Investments (Mauritius) Ltd 
2.12 Vijendra Singh
1.79 HSBC Bank Mauritius Ltd
1.76 Citigroup Global Markets Mauritius Pvt Ltd
1.51 Legg Mason Southeast Asia Special Situations Trust
1.32 Paradise Credits Pvt Ltd
1.29 Lloyd George Investments Management (Bermuda) Ltd
1.08 IDFC small and midcap Equity SME Fund
13.39 Ex-Istithmar PJSC stake; now sold to domestic MFs
46.87 Public shareholding
Source: BSE/till Dec 2009
Senior executives close to the negotiations with Maran said he might rethink the offer, given the challenging patch airlines are again passing through, with the hike in prices of aviation turbine fuel.
This would impact fares, which would have an adverse impact on the bottom line of airlines.
A meeting is slated next week between Maran and his advisors, in which a final decision is likely on a follow-up of the earlier offer. Maran was not available for comment.
A Reliance ADAG spokesperson, when asked to comment on the offer, declined to do so.
SpiceJet CEO Sanjay Aggarwal said his company did not comment on speculation. W L Ross India CEO Ranjeet Nabha, which would control 30 per cent of the equity capital of the company if its converts its $68 million (Rs 300 crore) worth of foreign currency convertible bonds into equity, did not respond to a query.
One of the advisors to the negotiations on SpiceJet says every Rs 100 increase in air fare leads to a one per cent fall in passenger load factor, which airlines can ill-afford to do at the moment.
They note ATF prices had gone up from around $72 three to four months earlier to $86 currently.
Jet Airways had already said it would have to hike fares by 10-15 per cent. Aggarwal agrees ATF prices have gone up, but says the total impact of it has been an extra two-three per cent on cost. Says Aggarwal: "Fuel prices have gone up from $80 to $86 and if this continues, we might have to look at fares. At the moment, the impact is marginal."
Advisors say the ADAG group, also interested in airport infrastructure, might have had to confront policy challenges under which an airport developer cannot pick up more than a minority equity stake in an airline.
Maran had earlier offered Ross a deal to buy 51 per cent equity in the carrier, provided the hedge fund brought in other shareholders into a consortium and create a block offering majority equity in the company, said senior executives involved with the deal.
SpiceJet has 20 aircraft. However, one reason why the price offered for it is lower than the market price is a Rs 200-crore (Rs 2-billion) tax liability on the company, currently under dispute.
The key shareholders of the airline include the Kansagara family with a 12.89 per cent (before possible conversion of the FCCBs), Ajay Singh who holds 4.15 per cent, a clutch of mutual funds, and the public.