SpiceJet says it is wrong to compare it with Kingfisher. However, the suddenness with which it has scaled down routes has raised fears that the airline is on the brink of collapse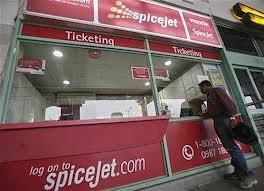 SpiceJet's current predicament is in some ways reminiscent of the Kingfisher Airlines crisis. A sudden reduction of the airline's fleet, leading to mass flight cancellations, and a mountain of unpaid dues triggered alarm among suppliers and the government.

The civil aviation ministry appears supportive of SpiceJet because it does not want another airline to fail. The real test now will be the capacity of the airline's chairman, Kalanithi Maran, to raise funds. And he needs to do this quickly.

Maran owns a 53 per cent stake in the airline and will chair a board meeting on Tuesday to discuss recapitalisation measures.

SpiceJet says it is wrong to compare it with Kingfisher Airlines and is confident it will fly out of turbulence. However, the suddenness with which it has scaled down has raised fears that the airline is on the brink of collapse. It also suggests that suppliers and lessors are losing patience.

While the airline began canceling flights last month, many of its problems go back further in time. For five consecutive quarters the airline posted losses and the mismatch between revenue and expense kept widening. Dues have been piling up for many months. SpiceJet owes vendors, airports and lessors about Rs 1,600 crore. The airline says the figure is lower and dues have come down since June.

There is a mismatch of about Rs 5-10 crore daily in actual revenue earned and the amount required to meet current expenses and pending dues, an aviation source says. SpiceJet is unable to bridge it, he adds.

Lessors and banks, too, are exerting pressure on the airline. SpiceJet has faced difficulty in securing loan facilities from banks, the source says.

Representatives of Export Development Canada, which funded the SpiceJet's purchase of Bombardier Q 400 aircraft, met the Director-General of Civil Aviation last week. SpiceJet has 15 planes of the type and EDC is reported to have expressed concern about the airline's financial health and delay in loan repayment.

Nathan Nelson, chief representative of EDC in India, confirmed the meeting but declined to comment on discussions.
SpiceJet, however, however termed reports of the Canadian government's intervention as false.

Industry sources believe SpiceJet has been forced to curtail operations because it was unable to raise funds and its cash flow was being stretched to meet dues.
Three days ago SpiceJet Chief Operating Officer Sanjiv Kapoor said the airline would operate 22-24 Boeing aircraft till the middle of next year.
A fortnight ago Kapoor had said the airline would restore its Boeing fleet to 35 planes from 28 by December and maintain its schedule.

All this negative news over the last seven days has led to a fall in bookings, travel agents say. Other airlines, too, are reacting to the adverse news.
The Jet Airways management has instructed its airport staff not to extend assistance -- like accepting passengers in case of schedule disruption -- to SpiceJet on credit unless there was an approval from the chief executive officer. Jet Airways did not reply to an email query on the issue.

Aviation experts, however, feel there is still a chance of a revival. Capt G R Gopinath, founder of Air Deccan, says, "SpiceJet needs to be given breathing time to enable it to find an investor.
The government needs to find a way to support the airline in the absence of a bankruptcy protection law."

"I feel SpiceJet will find an investor, but the airline will have to be flexible while negotiating the deal," says Amrit Pandurangi, senior director of Deloitte.

Inability to mop up funds and reduced operations over a longer period will result in a hit on SpiceJet's revenue and market share. Unit costs could go up as fixed costs are spread over fewer planes. The airline might find itself with surplus staff who could have to quit, experts fear.

Kapil Kaul of the Centre for Asia Pacific Aviation says, "As of now, I don't see SpiceJet going the Kingfisher way, but any further delay in recapitalisation will lead to the logical conclusion. SpiceJet needs interim funding to make operations stable before a new investor is on board.
"The operating environment is positive as costs are down, especially jet fuel prices, and growth is likely to be stable from next fiscal (year)."