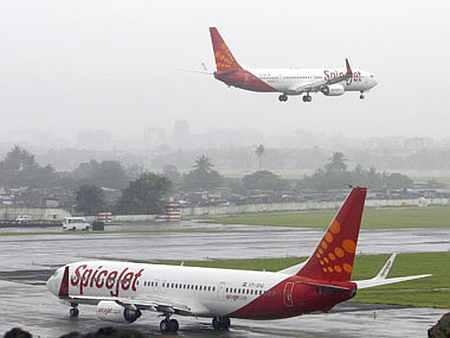 India's second largest budget carrier SpiceJet, which reported a record Rs 1,003 crore (Rs 10.03 billion) net loss last fiscal, may soon receive the much-needed capital infusion as talks with an overseas investor have reached "very advanced stages".
Media baron Kalanithi Maran-promoted carrier has been in need of cash for quite some time to keep it afloat.
"We are in very advanced stages of a capital infusion discussion with an external entity that when completed will help us clean up our arrears and rebuild with confidence," the airline said in a statement.
According to a recent report by Sydney-based aviation think-tank Centre for Asia Pacific Aviation (CAPA), SpiceJet requires at least Rs 1,200 crore (Rs 12 billion) funds to remain in the skies.
SpiceJet had a noted US investor Wilbur Ross as the single largest stakeholder before Maran took over the airline in June 2010. He had made a $80 million strategic investment in 2008 in the airline and sold his 30 per cent stake for $127 million.
Meanwhile, the airline in a statement said it has promoted Kamal Hingorani as senior vice-president and head of customer experience, besides hiring Ashwin Noronha as the head of ground and airport services.
Currently, Hingorani is SVP and heads ground and airport services. In his new role, Hingorani will have the in-flight, catering, and customer relations teams reporting to him. He will also be responsible for customer interface training for ground and airport services (including security) in addition to inflight services department.
Noronha will be joining SpiceJet from the consulting and auditing firm KPMG and has over 14 years of airline industry experience and specialises in ground handling and airline ground operations. He had earlier worked with Air India SATS, Jet Airways and Qatar Aviation Services.