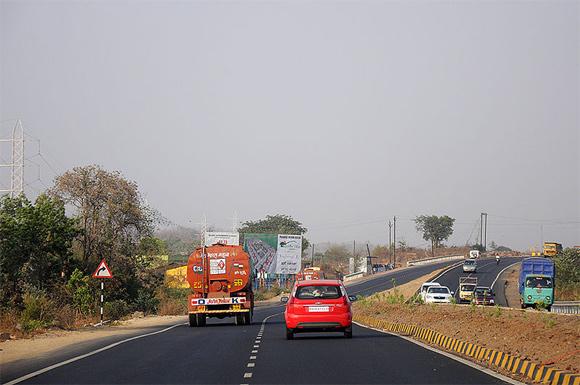 Land acquisition costs have gone up to almost 50% of total project cost.
High land acquisition cost may derail Road Transport Minister Nitin Gadkari's ambitious plans to execute expressway projects, even as the government seems to be on track to achieve its goal of constructing 30 km of road every day.
Gadkari has announced Rs 2 lakh crore investment for constructing expressways in the poll-bound states of Uttar Pradesh and Punjab.
Of these, projects worth Rs 30,000 crore are already underway in UP. But officials said land acquisition cost may prove to be a real challenge because of the steep cost involved. Expressways, by definition, are greenfield projects and involve huge land acquisition cost.
According to an expert, the land required for an expressway is at least five times more than what is needed for expansion of an existing highway. This is because an expressway is a 100 per cent access-controlled road with bridges and underpasses. Similarly, the cost of constructing an expressway is as many times higher than expanding an existing highway.
As much as Rs 10-12 crore per km of cost is incurred in the expansion of a highway from two-lane to four-lane. The number would be five to six times higher in a greenfield project like expressway.
Estimates suggest land acquisitions costs constitute around 50 per cent of the total cost of the expressway project. On an average, an expressway is built at a width of 100-feet. The cost of land acquisition varies from state to state and can even differ at two locations in the same state, an official said.
However, citing an example, an analyst put the approximate cost of land in Punjab, where one of the proposed expressways will pass through, at Rs 1.5 crore per acre. Speeding up of expressways has been tried before during the United Progressive Alliance regime, a former government official told Business Standard. But, the land cost held them back, he pointed out.
Also, the states had sought incentives from the central government for constructing expressways. "Where will the money come from?" he asked. The government needs to set aside Rs 20,000 crore worth of debt only for possession of land, as it plans to execute several projects, including one connecting Jaipur.
Gadkari would soon meet the chief ministers of Haryana and Rajasthan to work out the modalities for the Delhi-Jaipur expressway, a road ministry official said.
The Western Peripheral Expressway (Kundli-Manesar-Palwal) and the Eastern Peripheral Expressway (Kundli-Ghaziabad-Palwal) are among other projects delayed for over a decade. These are likely to be completed by December 2017.
The projects would benefit Haryana and Uttar Pradesh, as they will open both the rural as well as the urban areas for developing commercial spaces and townships along the expressways, apart from generating revenue. The projects are also expected to improve air pollution levels in Delhi and decongest the national Capital.
Another project is the New Delhi to Katra (Jammu & Kashmir) expressway, which would also reduce travel time to Amritsar by about two-and-a-half hours. The Delhi-Amritsar-Katra expressway would be executed on an alignment cutting across Jind in Haryana and connecting Amritsar via Barnala in Punjab. The project -- that would come up at a cost of Rs 60,000 crore -- would reduce the distance between Delhi and Katra by 110 km. The distance from Delhi to Katra via National Highway-1 is 729 km.
In addition, the government has prepared a blueprint of expressways stretching across 18,000 km. But experts remain sceptical of the ambitious announcements made by the minister, mainly on account of land acquisition cost involved.
At present, there are only a clutch of expressways in the country, including the Mumbai-Pune expressway, that was built at a cost of over Rs 1,600 crore and became fully operational in April 2002.
In order to complete the proposed projects on time, the road construction pace has to be set at 30 km per day, as promised by Gadkari, after he took charge in May 2014.
According to officials, the central government would be able to meet the 30-km-a-day road construction target, thanks to massive project awards in 2015-16. Around 10,000 km of highway projects are expected to be constructed during FY17.
For the government to keep road construction pace at 8,000-9,000 km a year, 10,000-12,000 km of projects need to be awarded each year for the next few years.
Since 2013-14, on an average, around 4,000 km of projects have been awarded by the National Highways Authority of India alone. This, according to an expert, is a slow pace of project award.
In April this year, the minister announced that 25,000 km of national highways will be awarded in 2016-17, against the 10,000 km awarded in 2015-16. The construction target was set at 15,000 km, against 6,000 km constructed last year.
Of the total length of 25,000 km of highways, 15,000 km fell under the target of NHAI and 10,000 km under the road ministry and the National Highways and Infrastructure Development Corporation.
Image: The Mumbai-Nashik expressway. Photograph: Wikimedia Commons.