The former Infosys business process outsourcing head's visiting card for his recently launched start-up, Antworks, says he's the 'chief everything officer'.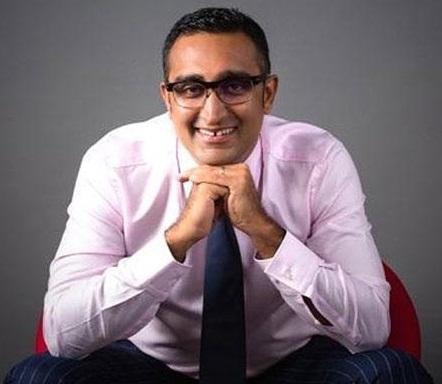 For start-ups, innovation is the key. That extends to designations offered to employees, too.

Founders of start-up ventures are increasingly taking the off-beat route to give themselves new titles at the workplace.
Consider the case of Asheesh Mehra: The former Infosys business process outsourcing head's visiting card for his recently launched start-up, Antworks, says he's the 'chief everything officer'.

"That's me. The title simply explains my role in the organisation," he says. Conventional designations are ego boosters, he adds. "Quirky titles help us break hierarchies."
Other start-ups, too, go by this. At LoanStreet.in, the online marketplace for financial products and services that kicked off operations in April this year, co-founder and chief operating officer Ramendra Mishra also has the designation of 'head of firefighting'.

Another founder, Prashant Hedge, who is into partner enrolment, wears the hat of chief demonstration officer. Ajit Pandey, LoanStreet.in's technology head, holds the post of 'technology Alladin'.
Start-up founders say such designations don't only draw attention. "They also help define the philosophy and culture of the organisation," says Mehra.
In Bengaluru-based Talview.com, which is into video-based assessment and training, the four co-founders hold the designations of 'chief visionary' (read CEO), 'chief disrupter' (chief technology officer), chief growth officer (chief marketing officer) and 'chief of customer success' (chief operating officer). "This helps us stay focused," says co-founder and CEO Sanjoe Jose.

In the coming month, the company plans to effect a designation change for 55-odd employees. All sales executives have already been given the designations of customer success officers.
"This reflects their job profile, highlighting the uniqueness in their roles" says Jose.
At iTraveller, a Bengaluru-based technology-enabled marketplace that helps plan customised holiday packages, Chitra Parija, one of the co-founders and head of operations, holds the post of 'chief jolly officer'.
"Her mandate is to organise fun events at the workplace. This has become a full-time job given the high stress levels in start-up workplaces," says Shiju Radhakrishnan, founder and CEO, iTraveller.com.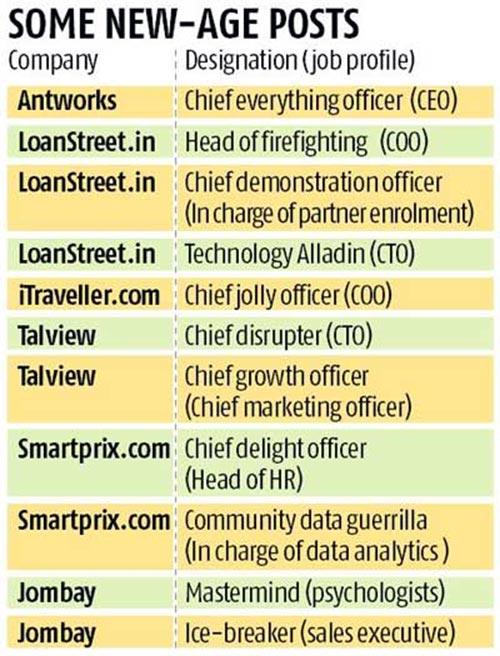 In Noida-headquartered Smartprix.com, which is into price comparison, the head of HR operations has been designated 'chief delight officer'.

The person handling data analytics hold the post of 'community data guerrilla', while the social media campaign manager is the 'social bird'.
Most start-up founders say off-beat designations help attract young talent and help break ice during conversations with customers, suppliers, employees and investors. And, these largely highlight the functional aspects of one's job profile.

"We found a designation of COO creates a sense of distance between employees. A title such as 'head of firefighting' helps people open up," says Vineet Jain, CEO, LoanStreet.in.
According to 24-year-old Indian Institute of Technology Delhi alumnus Abhinav Choudhary, one of the co-founders of Smartprix.com, quirky designations also ensure those holding such posts live up to the title.
Mohit Gundecha, CEO of Pune-based Jombay, a talent assessment and analytics company, says such titles have to reflect the aspirations and responsibilities that are part of the job profile. In Jombay, business development executives are designated 'rainmakers', while marketing executives are 'ice-breakers'. Psychologists working on human behaviour for clients' hiring processes are 'masterminds'.
Almost all the half a dozen start-ups Business Standard spoke to said they planned to extend the practice of new-age designations to most profiles in the coming months.