Eleven companies, which owe the bank Rs 843 crore, are untraceable. Many of them have common directors and have repeatedly taken loans from the same branch.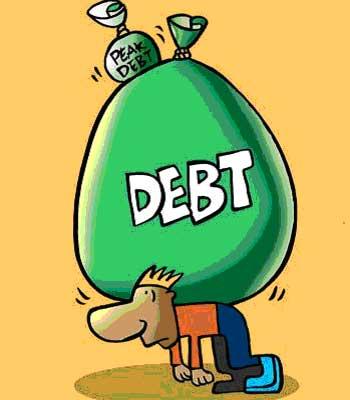 On February 23, state-owned Punjab National Bank put out a list of 905 wilful defaulters who collectively owed the bank over Rs 11,467 crore (Rs 114.67 billion).

The bank said it will pursue recovery of these loans in legal forums and refer about Rs 3,000 crore (Rs 30 billion) to asset recovery companies.
An analysis of PNB's list shows that in several instances, more than one defaulter company has the same address.

Of these, 11 large defaulters owe over Rs 843 crore to the bank.
These companies can be put into three groups based on their common directors and similar addresses.
Some of these also appear to be in the same line of business. Each of these groups also has some related entity in real estate.
Business Standard found that some of these companies no longer operate from the address given in the bank records, while others are in the process of being struck off from the registry of the Ministry of Corporate Affairs (MCA), raising questions about not only the sanctity of the details furnished by the debtors but also the due diligence carried out by the bank.
An email sent to the PNB spokesperson on February 26 and a reminder sent on March 5 remained unanswered.
"It is puzzling how the same branch of the bank has lent to so many different entities with the same people behind it," says a regulator who has been a banker.
"In the olden days, when there were no computers, it was possible for defaulters to go to a new city and dupe a new branch. Now, when everything is computerised and data is online, how can this happen?"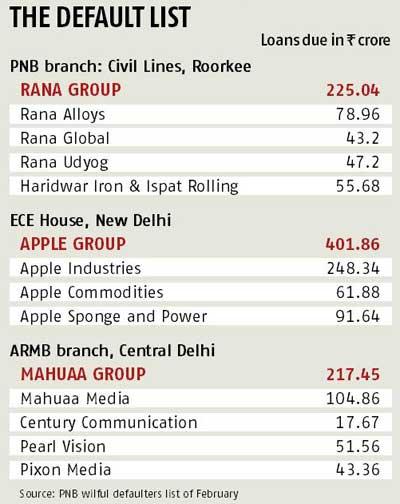 Rana Group (Four companies, Rs 225.04 crore)
Pratap Bhawan is adjacent to the Passport Office on Bahadur Shah Zafar Marg, New Delhi. As you enter its dimly lit corridors, small offices of publications come into view.
Rana Global, which owes Rs 43.2 crore, and Haridwar Iron & Ispat Roll (Rs 55.68 crore) had declared 108-109, Pratap Bhawan, as their address, according to the PNB list.
Business Standard couldn't find any trace of these companies at this address.
Instead, an attendant said it was the office of Shah Times. Faded markings on the glass door said Shah Publications.
In the MCA records, Shah Publications could not be traced.
However, there is a company registered in Muzaffarnagar (Uttar Pradesh) named Shah Press Pvt Ltd. Shah Nawaz Rana and Inktab Rana, who are directors of this firm, were on the board of both Rana Global and Haridwar Iron.
Rana Alloys, which had an authorised capital of Rs 10 lakh, owes PNB Rs 78.96 crore.
This company's status is shown as 'strike off' in MCA records. Rana Udyog, also based in Muzaffarnagar, has dues of Rs 47.2 crore. Rana Global, Rana Alloys and Rana Udyog had a common director, Qumruzama Rana, according to the PNB list.
But, this name could not be found in the MCA records of these companies.
All the four companies took their loans from PNB's Civil Lines branch in Roorkee.
An email sent to the official email addresses of the Rana entities did not elicit any response.
Apple Group (Three companies, Rs 401.86 crore)
Anupam Plaza at the Kalu Serai village, near Hauz Khas in south Delhi, is a triple-storied building with has a number of photostat kiosks, stationery shops and cyber cafes.
Its corridors are shabby and poorly maintained. Apple Industries and its associates (Apple Sponge & Power and Apple Commodities) are supposed to be located in a couple of offices in this building, according to PNB's wilful defaulters' list.
On the third floor, a board said Apple Sponge and Power, but the shutter was pulled down, covered by a thick coat of dust.
A passerby referred us to the office on the second floor as "both are part of the same group".
That office had the board of Design N Design. The receptionist, who identified himself as Azad, said the office belonged to SP Garg.
He gave his boss's mobile number, but said "Apple Industries has moved to Noida".
There was a narrow staircase that went upstairs. Thus, T-1&3 on the third floor of Anupam Plaza, where all the three Apple group companies are registered, and S4, which belongs to Design N Design, are connected.
Upstairs, the office was a largish hall with a conference room and a large oval table and chairs.
Broken furniture was strewn around the place, while the false ceiling was stripped with metal portions dangling.
Models of housing societies and other realty projects were stacked upon one another in one corner of the room.
Garg did not take calls on his mobile. The staff suggested that he is usually busy with projects.
In May 2015, Apple Industries in a filing said it had shifted its registered office to the Bhagwanpur Khera village in Shahdara in Northeast Delhi.
A 15-minute rickshaw ride from the Shahdara Metro Station took us to Bhagwanpur Khera. It was not difficult to locate 1/3787, first floor: Apple Industries' address.
On top of a photostat shop hung a large flex board with names of 17 companies. The narrow door was locked.
A letter box on the door had a mobile number written on it.
A person who identified himself as Jaikishore answered the call on that number.
When asked about Apple Industries, he said he was nearby and appeared in a few minutes along with another person who identified himself as Omkar Singh.
As Jaikishore led us up the staircase, the office of the 17 companies came into view.
The narrow strip had just enough space for a chair and half a table. When asked if this was the registered office, Kishore replied: "We just receive and dispatch dak."
Apple Industries' filings showed that it paid a monthly rent of Rs 1,000 for this office to one Chaya Devi.
Devi is the wife of Singh, records showed. Hyderabad-based Pawan Kumar Garg is named in the rent agreement as Apple Industries' director.
Other Gargs with addresses in Delhi and Muzaffarnagar are named as shareholders in the company records.
Mails sent to the official addresses of the Apple group entities did not receive any response.
Mahuaa Media (Four companies, Rs 217.45 crore )
On the ninth floor of Kailash, a highrise on Kasturba Gandhi Marg, as one gets out of the lift, there is a small plastic board that says Century Communication Pvt Ltd.
This, 909, Kailash, is also the address of Mahuaa Media, Pixon Media and Pearl Vision on the PNB list.
All these companies were floated by the father-son duo of PK Tiwari and Anand Tiwari.
We found some people in the office. As we asked for Tiwari ji, we were told by a security guard that the office was taken over by government entity WAPCOS four years ago and that Mahuaa TV had moved to Noida, though he did not give us an address.
A staffer named Mukesh used to visit the office to collect mails. "This continued for a few months and then stopped."
The guard had no answer when asked why the Century Communication board was still hanging there.
MCA records show that at the time the loans were taken from PNB, the addresses of these companies were the directors' home at Friends Colony, not a separate office.
Yet the bank proceeded to advance hundreds of crores to them. Subsequently, these companies moved to Kailash.
Mahuaa Media had become a subject of investigation for the Central Bureau of Investigation.
The company had not filed its balance sheet for several years.
The promoter was released in 2015 after spending time in jail. Emails seeking comments on the current status and plans sent to these companies did not receive any response.