Satyam's employees had to undergo mental trauma, job uncertainty and financial problems, after many were forced to leave.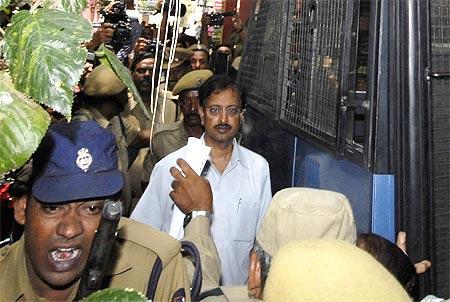 It was on January 7, 2009, that B Ramalinga Raju, the poster boy of Hyderabad's information technology industry, confessed to forging financial records at Satyam Computer Services.
This shook the entire sector, particularly here, because Raju was credited with putting Andhra Pradesh on the global technology map. Seven years on, though the memory has faded, the scar lingers.
"The only recollection is the shocking silence that prevailed at the Satyam headquarters as we listened to news of our founder confessing to fraud. Even after seven years, the news - which shattered our lives and blurred our dreams and career prospects--haunts us," says Anand Kumar (name changed), a senior employee who has remained with the company, now Tech Mahindra.
Satyam's employees had to undergo mental trauma, job uncertainty and financial problems, after many were forced to leave.
Though the law caught up with Raju, employees feel the punishment should have been more harsh.
Raju, along with eight others, was sentenced to seven years of rigorous imprisonment on April 9, 2015. The others included his brother and former managing director B Rama Raju, former chief financial officer Srinivas Vadlamani, and former PricewaterhouseCoopers auditors Subramani Gopalakrishnan and T Srinivas. Besides, Raju and his brother were also fined Rs 5 crore each, while the others were fined up to Rs 25 lakh each.
Purnanand, a former associate of Satyam, expresses his disappointment over the bail granted to Raju.
"If you ride a tiger, it is hard to get off'. Did Raju not know this? What he committed was an intentional deception and he should be put behind bars again," he says.
Raju had made his confession "with deep regret and tremendous burden". "It was like riding a tiger, not knowing how to get off without being eaten," he had written in his resignation letter on January 7.
The erstwhile Satyam founder, who kept the Central Bureau of Investigation (CBI), the government machinery and the legal system on their toes, was granted bail on May 11, 2015.
The court suspended their sentence after all the nine accused furnished personal bonds of Rs 1 lakh each. Deeksha Singh, a former Satyam employee, finds it difficult to forget those days.
"The burden of the maligned brand that we had carried on our shoulders, and the humiliations and denials we received from other firms when we approached them for jobs - looking at these I think the quantum of punishment awarded to them is very small," says Singh, who is now working for a mid-sized technology company here.
Even after seven years investigators have not been able to trace the money siphoned off.
People in the know say Raju and his family run a real estate business outside Andhra Pradesh and in Latin America. This could not, however, be confirmed.
Raju's daughter-in-law Sandhya Raju, had in August 2015 invested Rs 60 crore in a healthcare start-up CallHealth Services.
"The investment was made through Quark Enterprises, my holding company," she had told reporters. Sandhya Raju is the sole promoter of the start-up.
A month later, in September 2015, the Securities and Exchange Board of India had asked 10 entities linked to B Ramalinga Raju, his mother, brother and sons, to disgorge Rs 1,800 crore worth of illegal gains.
How Raju and his relatives will cough up this amount remains a million-dollar question.
UNMAKING SATYAM
Jan 7,'09: B Ramalinga Raju, founder and chairman of Satyam Computer Services Limited, confesses to fudging of accounts to the extent of Rs 8,000 crore in a letter to the board
Jan 9,'09: Raju and his brother, B Rama Raju (managing director of erstwhile Satyam) arrested by the Andhra Pradesh police on charges of forgery and cheating; Central govt supersedes Satyam's existing board
Jan 10,'09: Company Law Board bars the Satyam board from functioning; Govt nominates Deepak Parekh, Kiran Karnik and C Achuthan to the board
Jan 13,'09: Govt orders Serious Fraud Investigation Office (SFIO) to probe the scandal
Feb 2,'09: Mahindra & Mahindra expresses interest in acquiring Satyam
Feb 5,'09: Govt-appointed board names AS Murthy as the new CEO
Feb 11,'09: The new board meets to select prospective bidders for 51% stake in Satyam
Feb 17,'09: Satyam case handed over to the Central Bureau of Investigation
April 4,'09: CBI files its first charge sheet
April 13,'09: Tech Mahindra, through its subsidiary VentureBay Consultants, acquires Satyam
Nov 2,'10: Trial commences
Nov 4,'11: Ramalinga Raju, along with two other accused, gets bail from Supreme court as the CBI fails to file the chargesheet even after more than 33 months of Raju being arrested
Jun 25,'13: Mahindra Satyam merged with Tech Mahindra, creating a new entity with revenues of $2.7-billion
Apr 9,'15: Raju, along with eight others, sentenced to seven years of rigorous imprisonment
May 11,'15: All the accused granted bail