Its pre-consultation paper has been silent on the issue of closed electronic communication network, a loophole telcos can exploit to offer discriminatory pricing.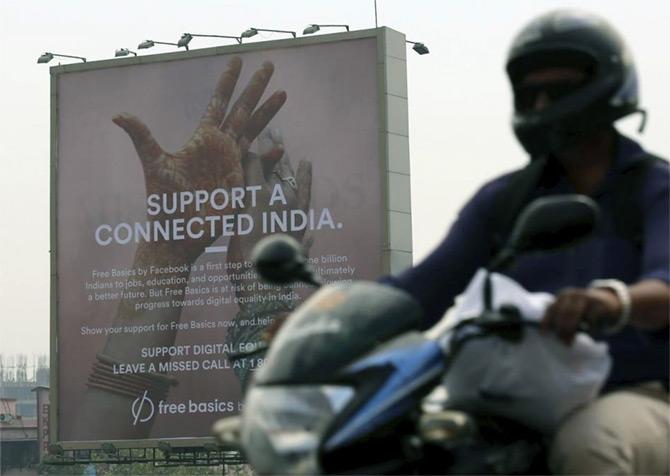 India's telecom regulator Ram Sewak Sharma has a really firm handshake, but the same cannot be said for the regulations rolled out by him.
Under Sharma, the Telecom Regulatory Authority of India (TRAI) has launched two major initiatives: penalty for call drops and ban on discriminatory pricing of data.
While the first has been quashed by the Supreme Court, the regulator has come under fire for creating a loophole that will enable telecom companies to circumvent the restrictions on differential data pricing.
On February 8, TRAI said: "Differential tariffs being offered for data transmitted over closed electronic communication network (CECN), such as intranets, are not prohibited by these regulations."
Activists claim the loophole will allow telcos to curate content within a "walled garden" and zero rate it (or sell it at throwaway prices).
What this effectively means is that a broadband service provider can offer the content of its own choice — movies, television shows, journals and newspapers — for free to its consumers.
Activists say this would prevent people from accessing the public internet and, thereby, restrict choices.
Also, it goes against the very ethos of an open internet as it influences consumer behaviour.
They believe if differential pricing of content is allowed within CECNs, then it will be a violation of TRAI's own rules.
"So, for any provider to make certain content or service available on a CECN, it would have to ensure that content is removed from the internet, globally," says Nikhil Pahwa, founder of Medianama and a champion of net neutrality.
"If it offers the same content over an intranet, just for the purpose of zero rating, it is essentially meant to evade the differential pricing regulation."
Interestingly, telcos are at sea because they claim this was not part of any consultation. The explanatory memorandum in the rules doesn't offer any clarification on what the telecos can do within the "walled garden".
Going by its representation, the Cellular Operators Association of India is not in favour of CECN.
The lobby group has asked for CECN to be scrapped and for differential pricing of data on the basis of content to be allowed.
Bharti Airtel, India's largest telecom services provider, recently wrote to TRAI seeking clarity on whether it could go ahead with its partnership with a global content company.
When asked if TRAI would issue any clarification on the matter, Sharma says the regulation is self-explanatory and no further clarification is needed.
"Let Airtel file its tariff plans and we shall let it know what it can do."
Many view this as the regulator developing cold feet on the matter, especially now that a pre-consultation paper will look at net neutrality in a comprehensive way. An email sent to Airtel on CECN remained unanswered.
Legal battle
Rajya Sabha MP Rajeev Chandrasekhar believes that since the Discriminatory Pricing Rules are flawed, even if the intention is good, telecos will challenge them in the courts just as they did the call drop regulation.
In a bid to deflect the protests, some within TRAI have defended the move by saying that the CECN piece was introduced only to protect closed networks like intranets of state governments and other private virtual networks. Why the regulator needs to worry about allowing zero rating of data on these networks is not clear to most industry experts.
Globally, zero rating of data has been hotly debated for long. In many countries, regulators allow it on a case-to-case basis. But in India, TRAI has banned it completely.
Instead, it created a "walled garden" concept where telecom operators can host select applications and content on their own servers or cloud and give it at reduced prices to consumers.
A popular argument is that in poorer countries this should be allowed as it lets people access a slice of the internet at low costs.
But Susan Crawford, visiting professor at Harvard Law School, who has been quoted by the Federal Communications Commission (the US communications regulator) in its landmark 2015 order on net neutrality, says: "Saying that walled gardens are 'good enough' for poorer people is clearly destructive."
FCC in its order said: "That specific practice (carrier-controlled walled garden) ended when Internet Protocol created the opportunity to leap the wall."
The world over, regulators are tightening regulations so that consumers can have unfettered access to the internet.
So what made TRAI chart a different course?
In New Delhi's corridors of power, conspiracy theories abound. Given that Reliance Jio is a very large integrated player (with access to content and plans of launching an ambitious mobile broadband service), murmurings suggest that it would benefit the most.
An email sent to Jio on the issue of CECN remained unanswered.
Telecom operators understand they can host content on their servers, clouds or data centres and offer them to their subscribers at discounted tariffs.
If content has been licensed from the content generator then the same film or television series can sit on the intranets of multiple carriers.
So a movie or a television show can sit on the intranet and also be present on an app like Netflix or Voot. TRAI for its part has remained silent on it.
"In the absence of a clear definition of net neutrality, everybody is looking for a loophole. As a result, telecom operators are saying no rules apply for content that sits on their intranet or CECN," says Chandrasekhar.
"But any action that is discriminatory will violate the principles of net neutrality."
Even while allowing telecos to zero rate content on CECNs, TRAI has taken an arbitrary position by stating "...if such a closed network is used for the purpose of evading these regulations, the prohibition will nonetheless apply."
This has led to further confusion among operators, who are looking for clarity before investing in content.
COAI has written to the regulator for a transparent understanding on the concept of CECN as mentioned in TRAI's regulation. But the regulator has not been very forthcoming on the same.
On Monday, TRAI released a pre-consultation paper to look at all the issues related to net neutrality. However, it does not talk about discriminatory pricing or CECN, which was part of its earlier order.
Utopian concept
Activists and experts believe the net neutrality debate in India has been dominated only by differential pricing of data - absolute openness does not exist anywhere in the world as far as net neutrality is concerned.
Former TRAI chairman Rahul Khullar says: "Pure net neutrality espoused by Tim Wu does not exist in the vast majority of countries. In many parts of the world, zero rating is perfectly legal."
According to him, France and Germany have taken regulatory views which do not adhere to pure net neutrality.
"In the past, FCC has allowed operators to run zero rated programmes. Even its order of 2015 said it would consider such schemes on a case-to-case basis," says Khullar.
"Similarly, UK permits zero-rated offerings contingent on operators expanding outreach and broadband coverage."
Till the government and regulator don't define net neutrality and its binding principles, such debates will persist and telecom operators will continue to look for loopholes to flout rules.
Broadband service providers will attempt to stimulate demand by zero-rating select offerings to boost internet traffic and monetise their investments.
However, what is disappointing is that in this case the regulator has created a window to flout its own rules.
Within closed electronic communication networks, telecom operators will end up doing exactly what the regulation sought to prevent: a curated version of the open internet.