Over salad and sandwiches, Hemant Kanoria tells Niraj Bhatt why understanding the dynamics of the borrower's business is critical for the lender.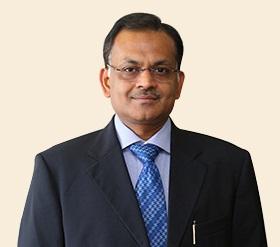 The Belvedere Club at The Oberoi, Mumbai, on a Saturday afternoon turns out to be the perfect venue to meet Hemant Kanoria, chairman and managing director, Srei Infrastructure Finance.

The members-only club for CEOs has few guests at lunchtime.
Kanoria, based in Kolkata, is visiting the financial capital on business.
Srei is one of the few non-banking financial companies in the country to have survived and succeeded for over 25 years.

Kanoria attributes it to the management's focus on understanding, managing and mitigating risk.

He gives the example of how the group's telecom tower business, Viom Networks, which it sold to American Tower Corporation (ATC) last year, began small and Kanoria scaled it up only after evaluating and understanding the risks.
Decision-makers in the financing business often get carried away by financial analysis without understanding how the underlying business operates, and make mistakes.
In infrastructure, several things can go wrong.

The gestation period is long, project-specific issues can crop up, but the biggest risk is change in government policies, as governments change in the states and at the Centre.
"Our risk assessment, mitigation, in a practical way, has helped us steer clear of these storms," Kanoria says.

In the mid-1990s, there was the CRB scam; in 2000 there was Ketan Parekh; in 2007-08 the global financial crisis took place; and the last two-three years have been bad for infrastructure.

"It's not that we haven't been exposed to the heat of the fire, but we have not got burnt. If there has been some scorching, it has been restricted to the fingers," he says.
When many other lenders are struggling with the Kingfisher Airlines debt, Kanoria has the distinction of buying the beleaguered airline's securitised debt at a discount and recovering it by selling the collateral - shares of United Spirits.
Srei is based in Kolkata, where Kanoria says he can hire intelligent engineers, MBAs and chartered accountants - the knowledge workers it requires.

"We could have set up the business in Mumbai or Delhi, but we asked ourselves, 'why not Kolkata'?"

The availability of talent, the quality of life and the standard of living are all good. Srei is able to provide a congenial environment for its employees to work and grow.
With infrastructure projects stuck for a long time and the stress in the banking system, how is Srei coping, I ask.

"It is not that we don't have stress. Our NPAs (non-performing assets), which used to be at 0.5-1 per cent, went up to about 4.5-5 per cent but are coming down now. However, the NPAs have been far less because of our specialisation in the sector and our understanding of the risks," he says.
The Viom Networks stake sale will bring Rs 3,000 crore (Rs 30 billion) of cash for the company. "We were among the first to get into the telecom tower rental business," says Kanoria. Till 2007, each telecom company owned its towers.

He looked at the successful tower-sharing models such as that of ATC in the US, and found no reason for it to not work in India.

The group acquired Spice Telecom's towers and Viom was formed after the merger of the tower businesses of both the Srei group and Tata Teleservices.
Kanoria is known to be a foodie with an affinity for sweets, but today he has ordered a quinoa and sunflower seed salad, mashed potato and a cheddar cheese and lemon chutney sandwich.

He says his metabolism is slowing and he tends to put on weight quickly.
Kanoria is a fitness buff - he wakes up by 5.45 every morning and starts the day with yoga, followed by squash, gym, running or walking.
While part of the proceeds from the Viom sale will go in reducing debt, Srei is also on the lookout for the right strategic investments.

It sees an opportunity in acquiring stalled projects from existing promoters or banks, which can be turned around.

Srei has also launched a Rs 2,000-crore (Rs 20 billion) fund with a minimum ticket size of Rs 1 crore to invest in stressed assets.

Kanoria is also exploring the possibility of acquiring tower assets in markets outside India such as Russia, Africa and Bangladesh.
Kanoria travels two to three days every week to understand policy from government officials and the perception of India from international financial institutions.

This is important, he says. "We are in a capital-intensive industry and our raw material is funding."
He also meets clients regularly to understand their needs and how their businesses are doing.
Kanoria stepped away from the family business of flour mills, food processing and animal feed and started Srei Infrastructure in 1988-89 to finance equipment for Larsen & Toubro's contractors.

Besides infrastructure equipment finance, Srei is into project financing and has a portfolio of strategic investments. Brother Sunil Kanoria, the vice-chairman of the company, complements Hemant.

Sunil Kanoria is involved on the policy framework and operations side of the business and became the president of Assocham last year.

In 2008, Srei had set up a 50:50 joint venture with BNP Paribas to finance retail equipment with a ticket size of less than $3 million.

In late 2015, this joint venture was merged with Srei Infrastructure Finance and BNP Paribas will own five per cent stake in Srei.
Over the years, Srei has made strategic investments in power, roads, ports, special economic zones and water projects because there were good opportunities.

Viom Networks was one such investment. Kanoria says, "In these investments we do the ploughing, sowing and then harvest them at the right time, like we have done in Viom Networks."
Kanoria is now looking at "harvesting" some parts of the road portfolio, though he clarifies that it is to maximise shareholder value and it won't be a distress sale. He says things have started moving in the infrastructure space.
The only constraint is that a lot of unsettled claims of contractors and concessions need to be settled.
Once the contractors get the money, they will be in a position to redeploy funds to take up more projects.
Kanoria, who has some public-private partnership (PPP) projects, is also turning into an evangelist for PPP and wants to showcase the Indian example to the world.

He has met government officials in the US and Russia, as both countries grapple with the issue of the right PPP model.

"We are the most successful country to get PPP in infrastructure, with an investment of over $200 billion," he says.

"We have our fair share of successes and failures, and we can teach other countries what not to do."
We walk out of the hotel and I ask Kanoria how long he is staying in Mumbai.

He has met executives of banks and financial institutions, but has to meet some clients, who are under some stress, later in the day to see how Srei can help them.

He says: "Ultimately, both of us have to stay in the sector. Branding them incompetent and pushing them out of the sector will not help anyone."
Then, gazing at Marine Drive, Kanoria says that he makes it a point to run a stretch every time he is in Mumbai. After a quick run the next morning, he will head home.