Former CAG Vinod Rai said he will not take a single rupee in remuneration from the government for his work.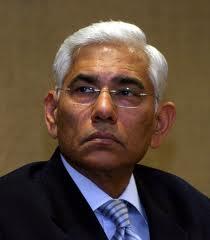 A life in Lutyens Delhi, particularly if you are a high-profile bureaucrat, comes with several perks.
One of which is the inability to take criticism in one's stride because it seldom comes your way.

It is mostly politicians who bear the brunt, and even revel in controversies, but Lutyens bureaucrats can be prickly.

It left some of those who reviewed his tell-all book, Not Just an Accountant: The Diary of the Nations Conscience Keeper, pleasantly surprised when former Comptroller and Auditor General (CAG) Vinod Rai showed little rancour at some of the adverse comments about him in the press.
What is little known about Rai is his love for sports, particularly tennis.

He is a fan of tennis great Roger Federer. Blame it on his sportsman's spirit or the calm that he always exudes, but Rai is still on more than just speaking terms with some of those in the Congress who would use the choicest words to describe what they term as his "opportunism".
Rai, after all, was CAG when the auditor brought report after report on scams during the UPA-2 regime.

On Sunday, the National Democratic Alliance government announced that Rail would head the newly created Banks Boards Bureau.

Congress spokesperson Randeep Surjewala termed it against constitutional provisions that a former CAG should be given a post retirement sinecure, while his colleague Manish Tewari insinuated that Rai has been rewarded by the current government for his efforts.

Rai responded by letting it be known that he will not take a single rupee in remuneration from the government for his work.
Rai hails from a landowning army family from Ghazipur in Uttar Pradesh. He grew up in New Delhi, attending the DelhiPublic School and was later sent to a boarding school in Pilani, Rajasthan.

He was a keen sportsperson in his school days. One of his juniors there was V K Singh, who became the army chief and is now a union minister.

He went on to study at Delhi's Hindu College and the Delhi School of Economics, which, at the time, counted Manmohan Singh as one of its professors. Rai, then 24, secured a post in the Indian Administrative Service (IAS) in 1972.

He served for a short while in Kohima in Nagaland and then moved to Kerala's Thrissur. "I landed at the Thrissur railway station burdened by a steel trunk, a bedroll and a tennis racquet…" Rai told a newspaper in 2010. When he left Thrissur after his stint as the District Collector, Rai said, he was married with three children.
The tennis racquet, however, didn't leave Rai even when he was appointed the CAG in 2008.
An unused part of the CAG office was converted into a makeshift tennis court where Rai and his colleagues would play after work.
His stint lasted until 2013, and is likely to be remembered for a long time for having contributed to public discourse on corruption that became a mass movement.
While fingers are being pointed on whether his appointment as the head of the Banks Board Bureau is ethical, given the track record of his integrity and probity there is also expectation that Rai would rally to get the banking system in order with the grace that he is known for, both on and off the court.