Despite having started at least a decade later than Jet Airways, IndiGo accounts for the lion's share in the domestic market
Primary markets are revived every time a renowned company taps the market to raise money. This time, the much-awaited IndiGo or Interglobe Aviation issue is finally expected to raise money with the company filling its prospectus with the market regulator, Sebi.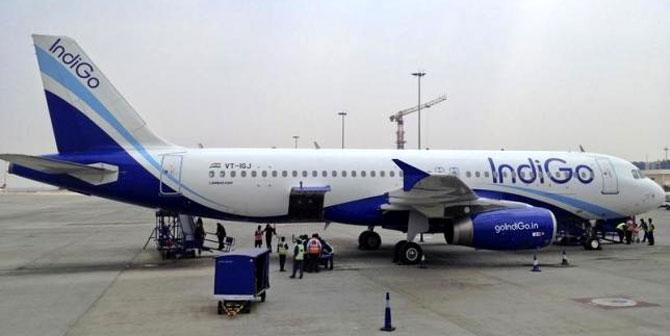 Prospectus is a formal legal document, which is required by and filed with the Securities and Exchange Board of India, that provides details about an investment offering for sale to the public. A prospectus should contain the facts that an investor needs to make an informed investment decision.

It is also known as an "offer document."
There are two types of prospectuses for stocks and bonds: preliminary and final. The preliminary prospectus is the first offering document provided by a securities issuer and includes most of the details of the business and transaction in question. Some lettering on the front cover is printed in red, which results in the use of the nickname "red herring" for this document.
The final prospectus is printed after the deal has been made effective and can be offered for sale, and supersedes the preliminary prospectus. It contains finalised background information including such details as the exact number of shares/certificates issued and the precise offering price.
Source: Investopedia
IndiGo is viewed as a benchmark in the aviation sector by market analysts as well as those in the sector. IndiGo, a lowcost carrier (LCC), has been the most consistent and profitable airline in the Indian aviation history since private players were allowed in the sector. Despite having started at least a decade later than Jet Airways, IndiGo accounts for the lion's share in the domestic market.
Financially, there is no point comparing IndiGo with any other airline in the listed space as all others are making losses. SpiceJet has just turned around, thanks largely to a managment change, but it is too small a period to compare its performance with IndiGo. Jet Airways is a full-service carrier (FSC) and has its business model and financials in a mess. Clearly, not a right comparison with IndiGo.
The right time for IndiGo's comparison both financially and operationally is couple of years away, when SpiceJet gathers steam and AirAsia the other LCC of international repute gains size. The dogfight to watch in Indian skies will be between these three players, but that is still a few years away as the other two players mature. But one thing is for sure Indian skies are for LCC who have gained market share from their fatter FSC cousins and will continue to down so going forward.
While there is nothing much to talk about on financial comparison, IndiGo's prospectus throws up some valuable information both for the company and the sector. Here are 10 of them:
One of the fastest growing markets: India is one of world's largest and fastest-growing air travel markets. In 2014 India was the sixth largest in the world as measured by total domestic seats (97.3 million) and ninth largest in the world by total domestic and international seats (155.9 million). Going forward, domestic India is forecast to be the world's fastest growing airline origin-and-destination market, based on revenue passenger kilometer (RPK), growing at an average annual rate of 9.5 per cent between 2013 and 2033.
IndiGo: the fastest growing Indian player: Among the Indian carriers IndiGo's domestic available seat kilometre (ASK) a measure of capacity increased from 5.3 billion in FY2009 to 25.8 billion in FY2014, growing at a CAGR of 30.1 per cent. While all other Indian carriers collectively declined at a CAGR of 0.1 per cent. As of the nine months ended December 31, 2014, IndiGo's market share based on ASKs was 36.3 per cent.
More people fly by IndiGo than any other airline: Between FY2009 and FY2015, IndiGo's market share by passenger volume expanded from 12.5 per cent to 33.8 per cent, the highest by any player, while that of Jet Airways fell from 28.1 per cent to 22.1 per cent over the same period.
Leader in all routes: IndiGo has the largest market share in all three categories of routes in the domestic market. The airline has a 39.4 per cent market share in the top 10 metro-to-metro routes, 36.9 per cent of the metro-to-non-metro routes, and 53.6 per cent of the non-metro to non-metro routes for the nine months ended December 31, 2014. IndiGo had the leading market share in all of the top five routes in India, measured by passenger volume.
Leader in almost all airports: In terms of market share at each of the six metro airports in India, in December 2014, IndiGo had the largest market share by seat capacity at five of the six metro airports, while Jet Airways had the largest market share at one (Mumbai) of the six metro.
Best in central Asia: IndiGo had operational reliability ratings of 99.95 per cent in FY15 and 99.94 per cent in FY14. Ontime performance was 86.7 per cent in FY15 and 88.2 per cent in FY14. It also had the second lowest level of complaints per 10,000 passengers. IndiGo has been voted as the "Best Low-Cost Airline in Central Asia & India" at the SkyTrax World Airline Awards for six consecutive years from 2010 to 2015.
Top of the chart operating metrics in the world: Indigo has the lowest cost per available seat kilometre (CASK) of all Indian carriers and amongst one of the lowest CASK excluding fuel expenses compared with publicly-listed LCCs globally. The CASK of IndiGo for FY2014 was US¢5.95, US¢6.37 for GoAir, US¢6.68 for SpiceJet, US¢9.05 for Jet Airways and US¢9.82 for Air India.
Low cost carrier in the real sense of the word: Being a low cost carrier is not about 'no frills' during your flight but it is measured in terms of low maintenance cost, fuel cost and ownership cost (leasing). It is about low cost not low price. In terms of maintenance cost per ASK for FY2014 IndiGo's was only US¢0.18 while it was US¢0.34 for Air India, US¢0.35 for GoAir, US¢0.90 for SpiceJet and US¢0.95 for Jet Airways. The fuel cost per ASK was US¢2.94 for SpiceJet, US¢3.07 for IndiGo, US¢3.23 for Jet Airways, US¢3.37 for GoAir and US¢3.47 for Air India. The ownership cost per ASK was US¢0.97 for IndiGo, US¢1.20 for SpiceJet, US¢1.23 for GoAir, US¢2.01 for Jet Airways and US¢2.62 for Air India.
Young fleet: The average age of the fleet has an impact on the cost of operating the airline. IndiGo's average fleet age is 3.1 years while that of GoAir is at 3.6 years, SpiceJet at 3.8 years, Jet Airways at 5.8 years, and Air India at 10.3 years, as of December 31, 2014. More importantly IndiGo's fleet age is expected to be low going forward. It has the largest orderbook of any Indian carrier with 180 aircraft on order.
And here's why IndiGo is making money: Revenue per available seat kilometre (RASK), a measurement of unit revenue, minus CASK, is a measure of a carrier's unit profitability. Excluding fuel cost from the analysis provides an indicator of a carrier's unit profitability before taking in to account fuel costs. IndiGo's RASK minus CASK excluding fuel was the highest in India and higher than all of the LCCs operating in Asia. No wonder IndiGo was the most profitable carrier in India for FY2014, as measured by EBITDAR margins, with a margin of 19.8 per cent, while GoAir, Jet Airways, SpiceJet and Air India had EBITDAR margins of 16.9 per cent, 5.9 per cent, 2.3 per cent and (9.0 per cent), respectively.