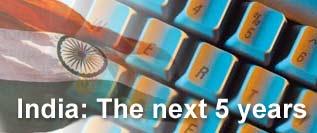 It was a revelation for Partha Iyengar, research vice president, Gartner India. A few months ago Iyengar was invited for a seminar on hi-technology in New Zealand, the idyllic Antipodean nation.
The New Zealanders, he found, wanted the answer to one question: "How do we repeat the India miracle in New Zealand?"
For Indians, that will seem like an extraordinary reversal of roles. Isn't India the international basketcase, with starving millions and child labour which is used to make products like carpets and matches? Since when have affluent countries like New Zealand wanted to follow in India's footsteps?
The answer is, yes, India still has starving millions and child labour. But its hi-tech stars have become world-beaters -- and they are poised to consolidate that position in the next five years.
*****
India rising!
Today around 2 million new mobile connections are sold each month. That's expected to climb to between 2.5 million and 3 million monthly by next year.

The auto industry should be making 1 million vehicles a year by 2005-06.
There will be over 70,000 bank branches and almost 200,000 ATMs by 2009.
By 2005 television sales should climb to about 9.5 million from the current 7.3 million.
BPO and software services should have a turnover of around $70 billion to $80 billion by 2007.

The production of motorcycles should climb to over 10 million from the current 3.2 million by 2011-12.
*****
Says Iyengar: "Eighty per cent of big companies plan to send their work here. India is already the brand to beat. It is the default brand."
Iyengar isn't the only person who is bullish about the Indian economy. In fact, the levels of bullishness are quite amazing -- and they've never been higher.
"It's so damn exciting," says R A Mashelkar, the dynamic Director General, CSIR Council of Scientific & Industrial Research. "The change that is taking place is so huge. It's a great time to be an Indian and to be in India."
What will India be like in five years time? If everything goes according to plan -- in India that's an extremely big if -- the Indian economy should have undergone a transformation.
At one level, the changes will be one of scale -- the economy will simply be much bigger than it is currently. At another India should, truly, have become a knowledge economy and an even bigger player than it is today on the global stage.
First, look at the numbers. A few years ago a mobile telephone operator had a humiliating experience during an exploratory trip to China.
He proudly told his Chinese hosts that his company sold a few hundred thousand connections each month. His hosts scornfully said they dealt only in millions.
Nobody is being scornful any more. In 2003 the mobile phone industry finally took off and is selling roughly around 2 million new connections each month. That's expected to climb to between 2.5 million and 3 million monthly by next year.
Look at it another way, that's about 80,000 new connections a day. In mobile telephony India is already the world's second-fastest growing market after China.
What's more, the telecom industry is already ahead of target. The country's teledensity (the number of telephone owners per hundred) was scheduled to touch seven by 2005. That target has already been reached. And by 2010 the Government had fixed a target of 15. That's should now be reached three years ahead of schedule by 2007.
Says S N Khanna, secretary-general, Association of Basic Telephone Operators: "Even smaller places are now picking up. That means there's a lot of scope for growth."
In other industries too, sheer numbers will turn India into an economy that can't be ignored. The auto industry, for instance, is behind target but it should touch 1 million vehicles a year by 2005/06 according to SIAM (the Society of Indian Automotive Manufacturers).
And by 2011/12 the production of motorcycles should climb to over 10 million from the current 3.2 million today, according to another research company.
Similarly, the production of hot-selling items like colour televisions and refrigerators is also slated for a steep climb. By 2005 television sales should climb to about 9.5 million from the current 7.3 million.
And refrigerators will also zoom to around 4.7 million from 3.2 million currently, according to Francis Kanoi, a Chennai-based research company.
The industry's big players are also making sure that they are ready for giant jumps in demand. Samsung is putting up a new plant and LG will open a new compressor plant.
Size will bring new opportunities. By January 2009 the two-wheeler industry will almost certainly have spread its wings and will be battling the Japanese and the Chinese.
Companies like Bajaj and TVS are already exploring fast-moving markets in south-east Asia and even Latin America.
TVS, for example is already studying the possibility of setting up factories in countries like Vietnam and the Philippines and Bajaj is even looking as far afield as Brazil.
Sheer size is only one part of the transformation that will take place in the next five years. More importantly, in many sectors companies will have transformed the way they do business and interact with the customer.
Take the banking industry, for instance. At the moment, there are about 70,000 bank branches dotting the country. By contrast, there are about 11,000 ATMs. Five years from now bankers reckon there will be roughly three ATMs for every one branch. So that should be around 70,000 branches and over 200,000 ATMs.
The arrival of new technology will enable the public sector banks to play catch-up with the multinationals and the new private sector which have made all the running in recent years.
And all banks will be using their branches to sell all types of financial products -- ranging from deposits to mutual fund units, insurance policies and government bonds.
"The next five years will be the golden era of Indian banking. Power will shift to consumers who will determine products and pricing," says HDFC Bank managing director Aditya Puri.
But the changes in banking are nothing compared to the whirlwind that is about to slice through the pharmaceuticals industry. The Indian pharma companies have reached their present size because India didn't have product patent protection.
That situation changes by 2005 and the future becomes radically different. The foreign multinationals should, in the next five years, be able to claw back a large chunk of the domestic market.
But the Indian giants aren't about to go under. In fact, they are preparing to strike back around the world. They will grabbing a larger share of the generics market around the world.
In fact, far-sighted companies like Ranbaxy have already set up their bases for the generics market in key markets like the US, Japan, Germany and France.
Besides that, the giants like Ranbaxy have already charted the way forward beyond 2005. They are beefing up their research skills and are already on a hiring spree. They will be looking at boosting their R&D efforts.
Companies like Ranbaxy, Dr Reddy's and Wockhardt are already commenced the R&D hiring spree and are looking for scores of PhDs to carry out their research efforts. Some of the larger companies are looking at hiring around 100 researchers.
At another level, India is likely to become the drug factory of the world. That means that the production of off-patent generic drugs will shift to India.
The multinationals themselves will get drugs produced by Indian bulk drugs companies for use around the world. And Indian bulk drugs companies which already have formidable skills and will be able to produce the drugs more cheaply than anyone else.
Back in the '90s foreign bankers and businessmen looked at India only because of its 1 billion-strong population.
But as we forge ahead in the first decade of the 21st century the realities have turned out to be completely different. Yes. The key factor driving growth are India's enormous numbers.
And these numbers will have an even greater impact because population growth in other parts of the world is slowly down extremely quickly.
Population is one reason, for instance, why the software industry expects to keep its competitive edge all the way till 2020.
"We have a sustained competitive advantage till 2020 because of sheer demographics. India will be the only people surplus country. The United States will have a shortage of 6 million people and even China will have a small shortage," says Nasscom's Sunil Mehta.
Nasscom reckons it will meet all the ambitious targets set for 2007/08 and further on from there. The industry's turnover should be around $70 billion to $80 billion.
More importantly, there will be major changes in the industry's structure. Gartner's Iyengar reckons that the software services will have to build BPO expertise and vice versa.
This is because, increasingly, giant multinationals will demand that companies take on all the work as part of a package. Says Iyengar. "Companies will have to learn how to run the integrated model."
But he reckons that Indian companies will have to quickly become more international in their approach and move to countries like China and the Philippines.
Says Iyengar: "The companies will not be so India-centric. They will have to become pretty global in outlook."
What are the goals for the future? Gartner's Iyengar insists that India is already in a dominant position in the software and BPO industry much as China dominates an industry like toys.
He says that the offshore model was invented by TCS and its visionary boss F C Kohli. Says Iyengar: "There is new respect for India as a global player and as a country that has the right skills. The recognition that India has the potential is beginning to sink in."
Nasscom's Mehta is, however, slightly more circumspect and sets a different goal for the future. "Indian companies will have to be embedded in the nervous system of the company. The question will be: how critical are you to their enterprise."
Indian skills in software and pharmaceuticals have been built up over the last decade and it was possible to predict that the two industries would grow hugely.
A bigger surprise, however, has been how the R&D sector has boomed in the last few years. It's reckoned that about 100 companies have R&D outfits in India and it's not just in the infotech sector.
A company like GE, for example, has around 1,600 people working in its R&D centre and it's on a recruitment spree and it likely to hire another 800 in coming months. Most interestingly, it has around 400 PhDs working for it in India.
The economic turnaround will trigger other changes. For instance, a large chunk of GE's new staffers will be Indians who've decided to return to India from countries like the United States. Nasscom reckons that thousands of Indians have already returned and are taking jobs in hi-technology and R&D.
Will people return to India in bigger numbers? Almost certainly, because salaries and the quality of life -- in terms of being able to afford material possessions -- has already improved in this country.
What's more, there is challenging work in this country for the legions who've finished from institutions like the IITs. Says Mashelkar: "Earlier they would have had nothing to do if they had stayed here."
Is this too rosy a picture of India's future? Obviously, in an uncertain world anything can -- and often will -- go wrong. There can be political upheavals and riots and the suchlike.
But there's more confidence than ever before. Says Mashelkar: "I can confidently predict that if India plays its cards right, by 2025, it can become the number one knowledge production centre of the world."
Additional reporting: Tamal Bandopadhyay, Bhupesh Bhandari and bureau reports.
Powered by