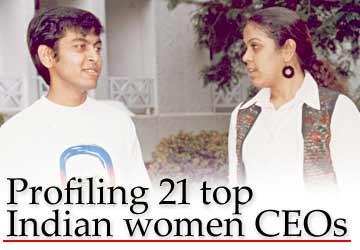 Debashish Ghosh, a final year MBA student at the Indian Institute of Technology, Madras, met Nischinta Amarnath, a second-year Economics graduate student at Stella Mary's College, Chennai, last year at Saarang, the IIT-M's annual cultural fest.
The meeting led to a joint column on Chennai-based entrepreneurs for a city-based newspaper, which was followed by an idea to write a book -- The Voyage to Excellence -- on women entrepreneurs.
Why a book on women entrepreneurs?
"Because no such book was available in the market. As we searched, we found that there were books available on male entrepreneurs but nothing on women. So, we thought, why not give it a try," Debashish explained.
The reasons to decide on women entrepreneurs were different for Nischinta. "We want to enable other men and women to join mainstream economic activities. I feel women are doing a wonderful job striking a balance between their house and career. So, we want to inculcate the entrepreneurial spirit in women and encourage other young women to also start something of their own."
Debashish, however, disagreed with her. He felt there was nothing special about gender. According to him, entrepreneurship is gender-neutral.
The 21 Leading Businesswomen in India *

1

Akhila Srinivasan, Managing Director, Shriram Investments Ltd

2

Chanda Kocchar, Executive Director, ICICI Bank

3

Ekta Kapoor, Creative Director, Balaji Telefilms

4

Jyoit Naik, President, Lijjat Papad

5

Kiran Mazumdar-Shaw, Chairman and Managing Director, Biocon

6

Lalita D Gupte, Joint Managing Director, ICICI Bank

7

Naina Lal Kidwai, Deputy CEO, HSBC

8

Preetha Reddy, Managing Director, Apollo Hospitals

9

Priya Paul, Chairman, Apeejay Park Hotels

10

Rajshree Pathy, Chairman, Rajshree Sugars and Chemicals Ltd

11

Ranjana Kumar, Chairman, NABARD

12

Ravina Raj Kohli, Media personality and ex-President, STAR News

13

Renuka Ramnath, CEO, ICICI Ventures

14

Ritu Kumar, Fashion Designer

15

Ritu Nanda, CEO, Escolife

16

Shahnaz Hussain, CEO, Shahnaz Herbals

17

Sharan Apparao, Proprietor, Apparao Galleries

18

Simone Tata, Chairman, Trent Ltd

19

Sulajja Firodia Motwani, Joint MD, Kinetic Engineering

20

Tarjani Vakil, former Chairman and Managing Director, EXIM Bank

21

Zia Mody, Senior Partner, AZB & Partners
* in alphabetical order
"These successful people happened to be women, that's all. Since the book is about women entrepreneurs, there is gender sensitivity. So, to me, the book is more from a business perspective than from a gender perspective. It was limited to women because no such book was available."
Once they decided upon the idea, the search for famous women entrepreneurs from all over India began. A list was made based on the maximum number of search results on Google, the number of awards these women have won and the sectors they led.
Although the initial decision was to have ten women in this list, they soon found it difficult to contain the list to ten. So, they chose not have any upper limit. Finally, there were 21 most successful women entrepreneurs in the book.
The idea, which took shape in June 2004, went on for nine whole months. "Once the list was finalised, we started collecting a lot of secondary data based on research. Then, we began calling these women on their company board line numbers. We first got in touch with their secretaries and proceeded from there," says Debashish.
How did the companies react to two students seeking for appointments with such top level executives?
"Yes, initially, we were not taken seriously by many, but afterwards the fact that we were students worked to our advantage. We managed to convince them about the credibility of the book. But we had to schedule, reschedule and cancel some interviews. One interview was cancelled midway -- something that was very disappointing."
The first interviews were done with the women entrepreneurs in Chennai and then the duo moved to Mumbai. "We still remember the travels we undertook. I was in Delhi, and it was raining heavily, and I got drenched completely while going for my assignment. Still, I did the interview. Another journey we could never forget was one we undertook from Chennai to Bangalore. It was nighttime and, on the way, the bus broke down. We were stranded midway and had to keep awake the whole night. However, we managed to do the interview in the morning," Debashish narrated.
"Similarly, we had two appointments in Delhi and when we reached there, one of the persons cancelled the appointment. Imagine, we had travelled all the way from Chennai to Delhi for the interviews. Luckily, the one with Ritu Nanda went on very well," said Nischinta.
The shortest interview they did was with Ekta Kapoor. And, the longest was with Kiran Mazumdar-Shaw. "We got a chance to interact not only with her but with many of her company officials. We spoke to people -- from her driver to the executives there. That was a very memorable opportunity."
As both the authors were students (authors@v2e.net), they couldn't afford to miss classes even when they worked on the book. For the last nearly one month, they had been attending classes during the day and transcribing the interviews at night which left them with very little time to sleep.
Some days, they even used to go from the IIT library where they worked straight into morning classes without even a wink of sleep. While Debashish had to only walk to his class, Nischinta had to go back home before rushing to college!
For nine whole months, one of them was constantly working on the book. As their exams never clashed, the work on the book continued unabated. "That was the main reason I chose to have her as my partner," Debashish said.
"We never thought we should make any money or profit out of this venture. Our idea was to inspire many more women," Debashish confided.
The authors decided not to rank their interviewees. Instead they arranged the interviews in alphabetical order. Finally, they got none other than one of the most famous Indian entrepreneurs, Infosys Chairman N R Narayana Murthy, to write a foreword, but only after a lot of persuasion. "We succeeded because we refused to take 'no' for an answer."
There was no time for celebration at all for either of them after they were finished with the last line of the book, The Voyage to Excellence (www.v2e.net). Hardly surprising, for what awaited them were university exams.
Photograph of Debashish Ghosh and Nischinta Amarnatha by Sreeram Selvaraj

Design: Rahil Shaikh