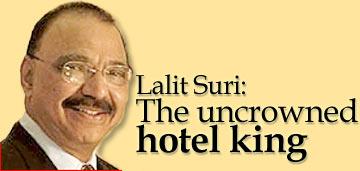 Clan Gandhi welcomes you into his en suite office, while his own chamber -- with the exception of a plasma screen tuned into a news channel -- is crowded with hundreds (perhaps thousands) of Ganesha sculptures and images.
Lalit Suri, hotelier-cum-lately, is just back from Parliament and his usually impeccable wardrobe has been suitably tailored for this role. It's impossible to tell which he enjoys more -- the glamour of promoting and managing a premier chain of hotels, or Rajya Sabha MP-ship -- and just as impossible to distinguish between the hotelier and the politician.
It's this, say industrywallahs, that is, in fact, a problem, that Suri is too much of a politician in the garb of a hotelier, but about that later.
For now, Suri is riding high as "the single-largest hotel owner with complete majority" in his properties that include the flagship InterContinental The Grand in Delhi, and six Grand hotels in Mumbai, Goa, Bangalore, Srinagar, Udaipur and Khajuraho, adding up to an impressive tally of 1,600 rooms.
Several of these properties are divested India Tourism Development Corporation hotels that had been flogged off by Arun Shourie in the previous government, and their sales -- as also that of the former Srinagar palace and Oberoi-leased property bought from Dr Karan Singh -- had resulted in their share of controversy about everything from terms of sale to the manner of the sale.
But Suri insisted otherwise and says he's wiped his slate clean on those accounts and it's time to look forward and carry on.
And carry on he will in style, with new hotels added to his kitty sooner rather than later. The Grand chain (even the name had got into a controversy with other claimants to the brand) promoted by Bharat Hotels is on a building overdrive.
While renovations at the previous ITDC hotels are now almost over, Suri has put his expansion plans in fast mode. Sites for hotels have been identified and negotiated in Amritsar, Ahmedabad and Jaipur, while teams are searching for the right locations in Chennai and Hyderabad.
"The first phase (Amritsar, Ahmedabad, Jaipur) will add 400-600 rooms to the Grand chain, while the next phase (Chennai, Hyderabad) will take the tally up by another 500 five-star deluxe rooms."
In addition, he hopes to close a deal with a foreign university for a hotel management and catering college -- something he'd like to commission within the year, possibly in Noida.
Over the last few years, Bharat Hotels has invested Rs 500 crore (Rs 5 billion) on its properties in Mumbai ("one of the finest city hotels in India") and Goa ("with the biggest inventory of resort rooms in India").
In addition, it has spent Rs 42 crore (Rs 420 million) on a 30-year lease on the former Bangalore Ashok, and a further Rs 40 crore (Rs 400 million) on renovations and Rs 15 crore (Rs 150 million) on VRS for its employees. Similar spends have either been concluded or are being undertaken in Khajuraho and Udaipur.
Still, the company remains healthy. "We had a turnover of Rs 200 crore (Rs 2 billion) in 2004-05 with a gross operating profit of 43 per cent," Suri claims. "Next year, the turnover is projected at Rs 300 crore (Rs 3 billion), minus any new acquisitions, with a GOP of 50 per cent."
For a company that is over two-decades old, and for Suri who has been at the helm of its affairs for just over a decade, this fast track growth has been nothing short of phenomenal in an industry that has otherwise been moribund in the country.
The Delhi property was one of the many hotels in the capital that were to be readied for the Asian Games in 1982 but which (like most others) took years more in the making. It was finally commissioned only in October 1988, and then only because of a promise, Suri says, he made to prime minister Rajiv Gandhi.
But despite, or inspite, of the blitzing growth, the hospitality industry in India isn't enchanted by Suri or his hotels. He's accused of playing heavyweight tactics in an industry spoiled to a fine degree by people who have made an art of getting on with each other.
Suri, however, has few friends within the industry, preferring the company of those from his alternate profession -- politics.
He's seen as abrasive, egoistical, even unprofessional. It isn't unusual for his chain to back out of contracts committing rates to travel agents, and his garb as hotelier rather than mere promoter has irked the industry.
"You can't equate him with professional hoteliers," says a prominent travel agent, "Rai Bahadur (M S Oberoi) or Ajit Kerkar wouldn't behave the way he does."
Just what is it about Suri that riles the industry? For one, it seems that he runs his empire through fear, not respect.
Whether in Delhi, or when visiting his other properties, he seems to reduce his team to a sense of serfdom, so much so that staff tend to ignore guests when he's around, to ensure that the man who signs their paycheques isn't displeased. It has led to angry diners in Delhi and angrier guests in Goa, note observers.
For another, former colleagues will tell you that far from being hands-on, Suri interferes in the professional management of his hotels. "It's the reason he hasn't been able to manage his relationships with international chains," another hotelier points out.
But Suri cries foul: "When we started as the first Holiday Inn Crowne Plaza in Asia," he says of the Delhi hotel, "we were far better than the standards expected in a Crowne Plaza and so looked for another partner in the form of the Hilton. When things didn't work with Hilton, we broke up with them after two years. By then Holiday Inn had bought over the InterContinental group, and so we reverted back to them. So, where's the question of not managing relationships?"
But does he, in fact, interfere with the running of the hotels? "I'm a hands-on hotelier who runs a professional chain of hotels," Suri rises to his own defence.
"I see reports on the hotels every day, discuss issues, and see that the annual targets and budgets are being met."
In fact, if there's anything Suri prides himself on, it is as a stringent and hard-hearted expert on managing budgets. "Both the Mumbai and the Goa hotels," he says, "stuck to their budgets" -- no mean feat in a country where costs usually soar and go far askew of the original intent.
"I'm at least 30-40 per cent cheaper than most other hotels, and with the same sort of quality. I get totally involved at the initial stage, negotiate and finalise everything, then get the right people and the right materials, and then leave it to the team to manage."
It's one reason why he will never build properties like the Oberoi's Vilas resorts. "I'm very cost conscious," he admits. "If a project calls for slow returns on investment, I'd rather not go there."
His budget management is the reason for the chain's centralised buying through the corporate office. "All capital expenditure is centralised so we buy in bulk and get the best prices," he says.
But that's a reason too for the lack of personality in the Grand chain of hotels. It's difficult to carry back powerful memories of any of the Grand properties in spite of Suri's claim of having, for instance, the largest hotel lobby in Asia, in its Mumbai Grand.
"They're very comme çi, comme ça," says a travel agent, "you don't remember them especially for anything."
For all the drubbing Suri may get as a hotelier, he does seem to have earned the industry's reluctant respect as a major industy do-er who's politics -- or at least his ticket as Rajya Sabha MP right up to 2010 -- have meant that he's able to grab the government's attention to the often narcisstic travel industry usually besotten with its own problems.
To that account, he's working closely with the industry as head of the World Travel and Tourism Council's India Initiative, launched as an exclusive club to grab the attention of Parliamentarians and those with any influence to the ears of the powers-that-be about the schizophrenic existence of the travel industry.
On the one hand, it's a major revenue and foreign-exchange earner, on the other it's often taxed simply for being a high-profile, "luxury" industry.
"In the five years of its existence," explains Rati Vinay Jha, former tourism secretary who now runs the WTTC office after taking over from the high profile Yogesh Chandra, "all three global members" -- Krishna Kumar, P R S Oberoi and Lalit Suri -- "have been chairmen of the Council, but Lalit Suri has been instrumental in getting WTTC's international summit to Delhi (April 8-10, 2005), and so has found his term extended. Obviously, as MP, all other things being equal, his ability to influence Parliament has been different from the others."
Even his harshest critic cannot fault him for failing to stand up for the industry. "As chairman of WTTC and the Hotel Association of India, he's put his money where his mouth is," says an observer, "he's made things happen." "I've taken the onus to promote tourism vis-a-vis the government and its policies," says Suri.
"Sometimes I've succeeded, at other times I've been disappointed." During the Rajya Sabha debate on the budget for 2005-06, he remained critical of the finance minister for overlooking the tourism sector, and failing to give it full infrastructure status.
But he tots up some achievements to his credit too: "The hotel expenditure tax has been removed, we have part-industry status, and we've been able to fight with the states to reduce the luxury tax on hotels."
The hotelier as champion of the industry isn't unexpected -- after all, it's the industry to which he owes his success. But for all that Suri will continue to remain an outsider -- unless he's willing to take lessons in people management from his wife and joint managing director Jyotsana Suri.
"She's gentle, she's helpful and she's sociable," say his critics, "she'll never draw the attention of the staff away from the guests, and is an asset to him and to the industry." But maybe Suri's counting on his phalanx of Gandhi portraits and Ganeshas to keep the show rolling.
Q&A: Lalit Suri
Lalit Suri trained as an automobile engineer and started his career manufacturing vehicle bodies (Subros, the car airconditioning company, is part of the Suri family's assets).
He would like to operate an air-taxi service (he already has a Beechcraft), and owns the struggling Midday newspaper in Delhi that he hopes will see a spurt in circulation once the Metro is fully operational.
How would you describe yourself?

As a person who works hard, takes life seriously, and is regimented. I'm fixed on my morning walks, am health conscious, play golf, and like to spend time with my family.
How much time is that?

It's impossible to meet over breakfast, but we try and get together over lunch. Sunday is always family day. During the summers, we go together to Europe for a holiday.
Will your children join you in the hotel business?

My son is studying law in business, and wants to do his Master's in international management and finance. Eventually, he will join here. My three daughters, all elder, whatever they want to, they're welcome to do.
Why politics?

I had a relationship with Sanjay (Gandhi) which grew to include the whole family. I've always wanted to be in politics. In 1992, I was nominated to the Rajya Sabha but withdrew when my wife said I should consolidate the business first. I was re-nominated in 2002.
But doesn't it clash with your business interests?

Businesses are run professionally now. You have industrialists like Anil Ambani, Vijay Mallya, Rajkumar Dhoot, every one of whom contributes to Parliament but don't neglect their businesses either.
Powered by