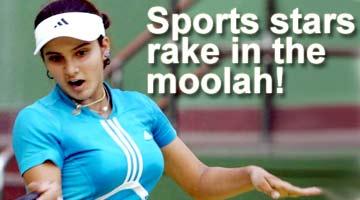 Sania Mirza is on a winning spree, and every time she lobs the ball across the net, endorsement companies add another zero to her cheque.
In just one week, the golden girl of Indian sport has found her endorsement fee increasing sharply from Rs 50 lakh (Rs 5 million) to Rs 1 crore (Rs 10 million), perhaps the highest ever in the history of Indian sport in such a short spell.
From Rs 5.5 lakh (Rs 550,000) at the start of the year to Rs 1 crore at the start of this month, Mirza is serving up money. Corporate breaths hang on her forward and backward swings.
Sania Mirza
TOTAL ENDORSEMENTS
Rate per endorsement: 5
Jan '05, before her match with Serena Williams
Rs 5.5 lakh
Feb 11, after winning the WTA title
Rs 40-50 lakh
March 1, after defeating world number 7 in Dubai
Rs 80 lakh-1 crore
Virender Sehwag
TOTAL ENDORSEMENTS
Rate per endorsement: 11

2001

 Rs 10-15 lakh
Prior to World Cup 2003
Rs 35-40 lakh
When he hit 309 in Pakistan in 2004
Rs 70 lakh
Current rate 
 Rs 1 crore
Irfan Pathan
TOTAL ENDORSEMENTS
Rate per endorsement: 8

Feb-04

 Rs 25-30 lakh
Current rate
Rs 50-60 lakh
HOW MUCH THE OTHERS GET*
Sachin Tendulkar
Rs 3 - 6/7 crore
Shah Rukh Khan
Rs 2.5 - 3.5 crore
Amitabh Bachchan
Rs 2 - 3 crore
Aishwarya Rai
Rs 1.5 - 2 crore
Saif Ali Khan
Rs 75 lakh - 1 crore
Sourav Ganguly
Rs 75 lakh - 1.25 cr
Rahul Dravid
Rs 60 -70 lakh
*Industry estimates of endorsement for one company per year
In a nation devoted to cricket, her iconic status is very recent and just as vulnerable. Already punters are wondering what will happen when she loses.
Will her fees fall, her celebrity status suffer? Or will she take it in her stride, just as she's managed the better deals from companies over established stars like Virender Sehwag and Irfan Pathan?
Certainly, it wasn't always this easy, even for this smart-talking tennis player who manages to floor everyone with her sophisticated presence. For over two years, Bangalore-based Globosport tried to hawk Sania Mirza for advertising endorsements, but there were few takers.
Executives of the company owned by tennis ace Mahesh Bhupathi made a pitch to over 30 top corporates across the country. Only three, including Tata Tea, obliged -- and then at a throwaway price of Rs 5 lakh (Rs 500,000) a year.
But last week Mirza was the country's hottest sports star after a sensational victory against the world number seven, Svetlana Kuznetsova, in Dubai. The win followed her hyped match with top seeded Serena Williams and her victory in the WTA tournament in Hyderabad.
Says an elated Anirban Das Blah, vice president-marketing and sales, Globosport: "After Sania played with number one seed Serena Williams, we had 22 offers for endorsements. But with her win at the WTA world tennis tournament in Hyderabad, another eight offers were added. Corporates are lining up for her, and her price is shooting up."
Neither Sania nor Globosport are complaining. After her price went up nearly 20 times in the last month, she's begun to give sleepless nights to even the country's most sought-after cricket stars.
Blah says that Mirza has already signed three as-yet-undisclosed deals, and negotiations are on to fill one more slot. "That will be filled if the company we're negotiating with is willing to pay more."
Already, Globosport has decided to limit the number of new endorsements she will undertake in a year to a maximum of four, so prices can be kept high.
Says Blah, "Unlike cricket, where nearly 70 per cent of your earnings come from endorsements, in tennis the rules are different as the prize money is huge. So, we would rather concentrate on getting her into the top 25 of the game."
But in Sania's case, the sales pitch is as innovative as her game: she is the only face in tennis and has no competition, unlike in cricket where there are more than 11 celebrities jostling for TV space.
Says Blah, "Her achievement connect is stronger than any film actress's, and her image cuts across all societies and towns, so she can reach out effectively to both the youth and to women."
Advertisers who have signed up with her agree with Blah's brand positioning. Tata Tea, for instance, wanted to change customer perception of tea as an old-fashioned, fuddy-duddy beverage.
Says Vivek Mathur, vice president-marketing in Tata Tea, "We wanted Tata Tea to be a youthful, outdoor and action-oriented brand that gives you the energy to succeed." Mirza fitted the bill as someone stepping out and striving to succeed, not someone who had already reached the top.
The tea company also wanted to understand whether an upmarket game like tennis was recognised and understood by women in smaller towns.
A dip-stick study in Gorakhpur came back with some interesting revelations -- not only were women familiar with tennis, thanks to television surfing, they also wanted their children to play the game. Tea sales in January, when the ad campaign was running, went up by over 40 per cent over the previous year at Tata Tea.
But Sania is not the only youth sports icon hitting the big time. Corporates are looking for youthful, fresh faces with a long-term future, and are willing to the pay the price for it, even as endorsement rates are spiralling. Among those who have caught their -- and the country's -- fancy is the rock-jawed cricket pace bowler Irfan Pathan, the more so because of his rags-to-riches story.
Says Lokesh Sharma, managing director of Twenty First Century Media, "Irfan's value has doubled since February last year. As a brand, he is worth Rs 5 crore (Rs 50 million) a year. He excites advertisers and his value should increase enormously over the next two or three years."
Keeping him company is the earthy charm of Delhi's master-blaster, Virender Sehwag, who has tied the knot with 11 advertisers and is looking for more. His rates have already surpassed, according to industry sources, those of the 'Wall', Rahul Dravid, and are within kissing distance of the team captain, Sourav Ganguly.
Points out Latika Khaneja, CEO of Collage Marketing that manages the batting sensation: "We are concentrating our attention on the next World Cup. I will not sell him for less than Rs 1 crore. Remember, he is very young and has a long future in the Indian team."
Also spinning his future to the top is Harbhajan Singh whose endorsement fee has spiralled nearly two-and-a-half times to around Rs 30-40 lakh (Rs 3-4 million) a year. Points out Abhay Mehta, CEO of Sporting Frontiers who manages him, "He plays for both test matches and one-dayers unlike Mohammad Kaif and Yuvraj Singh."
To be fair, the big boys Sachin Tendulkar and Sourav Ganguly still command the fattest endorsement cheques -- but their rates have been stable for a while.
And corporates are doing some distance-gazing in their search for newer superstars whom they hope to sign on while still young. Sachin, Ganguly and Dravid, on the other hand, are nearing the end of their innings on the pitch.
Points out Hemant Sachdev, director in Bharti Televentures, which uses celebrity sportsmen: "Corporates are looking at those who will be stars after the 2007 World Cup. The idea is to invest in them now and build a relationship."
This is where, despite their inconsistent performances, Yuvraj Singh, Zaheer Khan and Kaif are still in the running, though nowhere close to the astronomical prices of their peers.
Why are corporates sinking in so much money on sports celebrities? The answer lies partly in the deft handling of the celebrity management companies who have cashed in on the corporate craze to cut the clutter in advertising. Or, plainly, to be one up on the competition.
Sharma too has followed a strategy similar to Blah's to ensure that Irfan Pathan's brand does not get diluted. He points out, "We are looking only at niche products and market leaders, not the number two products, that will exploit his image properly. Advertising works both ways. A brand benefits from association with the athlete, but some of the brand's value must rub off on the athlete as well."
But if Pathan endorses lesser-known products, the strategy is planned differently. So, for instance, when he endorses Cavin Kare, the advertising focus is south India so as not to impact his major fan following areas (the west and the north).
Corporates are also leveraging his youthful image along with his good looks. Reebok, for example, used Irfan to connect to the company's image of staying fit.
Says Himanshu Bharadwaj, head of marketing, Reebok, "There was a clear brand fit. We have over 700 fitness centres across the country. And Irfan represents fitness -- he is among Indian bowlers who has had the least injuries."
Tata Teleservices has used Pathan as well as Sourav Ganguly for its mobile phone services.
Says Abdul Khan, vice president, sales and marketing, "The youth is a big market for mobile services, and it is a product which empowers you to do well. We wanted to connect with the youth and quickly establish our brand. The need was someone who gives 100 per cent to what he is doing."
But the road to celebrity endorsement is beset with problems too. What will happen if Sania loses a few matches, or does not make it to the top 50?
Agrees S Raghunandan, vice president sales, Dabur India, which has hired Sehwag, "There is always the risk that a sportsman will not perform. It's a risk you have to take in the business." Agrees Khan, "They do go through their ups and downs -- that is the attendant risk in using a celebrity."
But an executive in a leading FMCG that uses celebrities regularly is of the opinion that some of the asking prices for endorsements are ridiculous. "The art is to identify the potential winners and pick them early, so that you get the best price," he says. "I think it ridiculous to spend even Rs 50 lakh for Sania just because she has performed well twice."
LG, for instance, has reduced the risk by pairing film star Zayed Khan with Yuvraj Singh for its mobile ad campaign. Salil Kapoor, head of marketing, LG Electronics India, says this will help the company hedge its bets -- if one does not perform, the other might.
Companies are also insisting on more comprehensive performance guarantees, like the number of tests or one-dayers a cricketer must play in a year, or the number of centuries, or wickets, he has to take. That can now constitute about 15-20 per cent of the fee.
Worse, many companies do not have a clear strategy in place. Says Sachdev, "Companies use celebrities as beautiful posterboys. There is no thinking or fit with the product. It is becoming a business of opportunism and celebrity companies are using it cleverly to up prices."
Worse, with the uncertainty in key cricket series like the Indo-Pakistan matches, corporates are unsure of signing new deals. Says Khaneja, "It takes six to eight months to close a deal and nearly a month to prepare for a shoot. How do you expect corporates to sign a new deal when they don't even know whether the matches will be televised at all?"
That is why Khaneja is not rushing through contracts for Sehwag. Instead, she hopes to rake in the moolah from companies who want to hire her long term beyond just the next World Cup.
The logic is simple: Sehwag is 25 years old and after the World Cup the top three will not be in the reckoning any more. So the best bet after Sachin Tendulkar is Sehwag.
Companies have their reasons, of course, to use Sehwag as a brand ambassador. Dabur says that as its tooth powder is a male category product, it wanted a macho, energetic person who would be easily identified in rural markets where the product sells. Sehwag was an obvious choice.
The company says that its ad recall has gone up by 40 per cent and sales of its tooth powder (declining for the last six months) have become stable.
Dabur, like many other corporates, thinks it worthwhile to pay for celebrity endorsers. After all, we live in a sports- (okay, cricket, and now Sania Mirza) and movie-crazy country.
But with only a handful of icons, and some help from their celebrity managers, they can always demand their price as long as the going is good.
Powered by