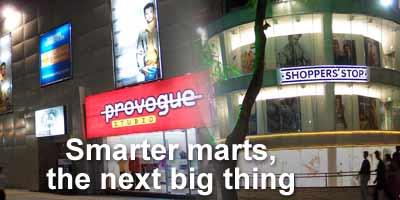 It may become the first stop in Kolkata for people who want to spruce up their home or office.
The sprawling 100,000-sq-ft Homeland mall, promoted by the Merlin Group, will be a one-stop shop for everything you need in a home or office -- from furniture fixtures and bathroom fittings to electrical equipment, upholstery and decorative items, spread over a whopping nearly 150 stores.
But the Merlin Homeland, scheduled to be ready in a year, is not the only specialty mall in the works. An electronics mall, an auto mall and a jewellery mart are set to spread their wings in New Delhi, and their promoters are already planning moves to smaller cities. Builders are ideating at a furious pace to give mall-developing a fresh twist.
Call it a smart mart. Builders around the nation are wising up to the fact that malls that cater to every need are getting to be something of a bore for the jaded consumer. The alternative: malls that cater to a specific set of needs.
Where did the idea for a specialised mall like the Homeland come from? "Our research indicates the home-office improvement segment is accounting for a growing proportion of organised retail off-take in India," says Sushil Mohta, managing director, Merlin Group.
Mohta notes that affluent consumers spent around 25 per cent to 30 per cent more on home furnishings in 2002 than in 2001. Construction has begun on Homeland, described as India's first one-stop homemaking mall, and it will be ready next year. Shop sizes will range from 150 sq ft to 2,000 sq ft, depending on the products sold.
In another part of the country, the Rs 1,600-crore (Rs 16 billion) Senior Builders is about to start work on an electronics mall over a four-acre area in Gurgaon.
The Rs 180 crore (Rs 1.80 billion), 400,000 sq ft project will host shops selling just about anything that falls in the electrical/electronic goods category -- from switches and light fittings to ACs, TVs and music systems.
There's apparently no dearth of companies willing to associate themselves with the mall -- Senior Builders says it has already been approached by heavy-hitters like Sony, Samsung and Philips. But Vijay Dixit, managing director, Senior Builders, is looking at other, not-so-obvious occupants too.
"When big malls started coming up on the Mehrauli-Gurgaon road, a number of smaller shops were displaced," says the MD, "and those shopowners need the kind of space we can provide. Many of them have approached us."
Senior Builders has already tied up with 60 to 70 such shops, he adds. "Naturally, each of these shops will require less space than a Sony or a Philips would."
Dixit is quick to point out that Senior Builders doesn't intend the USP of the electronics mall to be diluted. "Any agreements we make with companies stipulates that they don't have the right to use the mall for selling their other products," he says.
In short, the idea is to be a very uppercrust version of Delhi's Gaffar Market with its ramshackle shops that sell electrical goods.
The company's other major specialty malls project is the ambitious Senior Auto Mall, also under construction in Gurgaon. This vast auto showroom -- with a 10-storey display -- will serve as a one-stop shop where prospective customers can see car models from different companies and test-drive them too. Also, three to four banks and insurance companies will have branches in the mall.
"The competitive element will ensure the customer gets the best deal for loans and insurance packages," says Dixit. There will also be a test-driving track located on the terrace of the building.
Architect Pradeep Sharma, who is working on the auto mall, says the showcasing will be such that people will be able to see as many as 190 cars from outside the building.
"For this purpose, we're using imported curved glass for the show windows," he says. The ground floor of the mall will include a 50,000 sq ft open hall that will be used for exhibitions with auto industry themes.
The other floors will have giant showrooms for different companies. Senior Builders says it has had positive feedback from the world's top auto companies.
Heartened by the response, the company has speeded up its plans for opening similar auto malls in other parts of the country, starting with Kolkata and Jaipur.
One of the highest profile specialty malls is the Gold Souk jewellery mart, set to open its doors this October. Located -- again -- in Gurgaon, the Souk is promoted by the Aerens Group, which has tied up with around 30 jewellers for the mall.
These include the Dubai-based Alukkas -- the world's largest 22-carat retailer -- and Kolkata's M P Jewellers, which specialises in filigree jewellery.
Internationally, there are precedents for this type of jewellery mall, especially in the Middle East. "We sent a team to Dubai to study the Gold Souk there and explore the possibilities for opening one in India," says Amit Gupta, vice-chairman, Aerens Gold Souk International.
Gupta says though the retail scene is changing fast, and the idea is to give a modern twist to buying jewellery.
With a Rs 35 crore (Rs 350 million) investment, the company is looking at sparkling returns of around 25 per cent within the first two years. And Aerens is already looking ahead, with plans already in the works to open more such jewellery malls.
Cities being targeted include Mumbai, Ahmedabad, Bangalore, Kolkata and Chennai. But the next Gold Souk will in all probability be in Ludhiana. "We are in the process of finalising the land and will make the announcement shortly," says Gupta.
The Gold Souk may be a dazzling concept, but don't discount the concept of bringing factory outlet stores together under one roof.
K K Bazar, the discount mall opened by Kumar Builders in Pune late last year, is an example. With tie-ups with around 70 companies -- including Provogue, Benetton, Titan and Weekender's -- the mall provides goods discounted at anywhere between 20 per cent and 70 per cent.
But Shailesh Khandelwal, CEO and general manager-operations, K K Bazar, emphasises this doesn't mean it sells defective goods. "Only surpluses and augments are sold," he says."
"We had been studying the concept of factory outlets," says Khandelwal, "and we realised the market was too scattered, which made it inconvenient for consumers."
Most of the shops in the mall sell lifestyle products but Khandelwal says the company soon plans to expand into furniture and electronics as well.
Not much needed to be spent on construction -- Kumar Builders refurbished a 45,000 sq ft wing of their wholesale K K Market and converted it into the discount mall.
But bigger plans are on the anvil; the company's next discount mall will be opened later this year in Pimpri, Pune's industrial suburb. "We have also identified Indore and Nagpur as promising markets," says Khandelwal.
So how viable is the concept of specialty malls? Amitabh Taneja, director, International Council of Shopping Centers (ICSC)-India, who has been studying India's retail industry for over a decade, says there is big potential in the segment.
However, Taneja bemoans the approach taken to mall building. "The need is to have proper mall developers, not just builders selling space indiscriminately," he says.
"It's not enough to make deals with various companies and have them setting up their shops any which way. The tenant mix must be consumer-friendly."
Other practicalities must be worked out too, says Taneja. "For instance, an electronics mall will never work if you don't provide a separate entrance for goods-carrying trucks."
Most of the developers say they have already taken these factors on board and that their approach is systematic.
For instance, Merlin Group's Mohta says the shop placement in the Homeland mall will aim at maximising customer convenience, with shops selling complementary products placed next to each other.
"For instance, a furnishing store will have a light-fitting shop next to it, with a lock shop nearby," he says.
R S Roy, editorial director, Images Multimedia, says specialty malls can have different themes and don't necessarily have to be divided by brands. You can have price-tiering.
"For instance, you can have one shop in a mall selling television sets -- made by different companies -- that are priced below Rs 5,000. And on another, 'higher' floor, you can have a shop that sells TV sets priced between Rs 5,000 and Rs 10,000."
Roy also says that keeping the nature of the Indian market in mind, there is scope for a mall that caters exclusively to wedding needs. Or even a "Dilli Haat-style mall" -- handicrafts and eateries representing various states, all under one air-conditioned roof. "But it would have to be well planned out," he says.
How well planned? You're probably heard the adage that people don't go to multiplexes just to watch a movie but for "the complete experience". Specialty malls work on similar principles.
"If a lady takes three hours to look around the jewellery mall, we have ways for her husband to pass his time too like an executive lounge where he can surf the Net, read or watch TV," says Aerens' Gupta.
Likewise, Senior Builders' Dixit says the auto and electronics malls are being built not just as consortiums of shops but as centres for a satisfying family outing, with food courts and entertainment sentres.
"The auto mall," he says, "will bring value-addition to a process often seen as being tedious and formal."
Roy also says there is little to differentiate one general mall from another. But this won't be the case with a well-planned specialty mall, which by its nature must have a character of its own.
Architect Sonali Rastogi says there are numerous little design elements that contribute to giving each mall an individual look -- depending of course on the types of products being sold. Lighting is one example.
"In a jewellery mart, ambience has to be the differentiating factor -- otherwise you can pick up what you need at Chandni Chowk," says Rastogi.
"So you'll need halogen lighting and spot lighting, which will give the place a larger-than-life ambience." In an auto mall, on the other hand, the centre of attraction is the product on display. "So the lighting will be such as to accentuate each feature of the car."
Also, the layout of certain types of malls will have a functional use -- test-driving in the auto mall, for instance -- but not for others, like the Gold Souk. That will affect the design too.
You might think the mall makers would start running out of ideas. But they are constantly thinking of ways to take the specialty mall concept forward. Dixit, for instance, says his group has been bandying ideas about.
"We're working on developing specialty malls for hardware and sanitaryware products," he says. "Once we finalise land, we will start working on these projects."
The larger builders see the potential too. "Specialty malls have proved a workable proposition overseas and should be so here as well," says Sushil Ansal, chairman, Ansal Properties.
Ansal says his group may soon consider building such malls, but there are no concrete plans as of now. What areas would he consider feasible?
"Malls for auto components or electronic goods have promise," says the chairman. "They could be more sophisticated versions of markets like Chandni Chowk."
Ultimately, of course, the success of these projects will depend on how they utilise the opportunities presented to them.
R S Roy says what makes the mall makers lucky is that "being decades behind the west when it comes to mall-development, we've got the chance to learn from all their mistakes. If we do that, the possibilities are endless."
The Merlin Homeland
The one-stop homemaking mall will be ready by next year.

Around 150 outlets will provide products from bathroom accessories and kitchen equipment to flooring, fitting and fixtures.

Offices on upper floors for architects, interior designers and consultants, who can help provide home solutions.
The Aerens Gold Souk
The 180,000 sq ft jewellery mall in Gurgaon will open in October 2004. Ten more are planned in cities around the country.

The souk will have a food court, an executive lounge, a children's playroom, a beauty salon and a bookstore -- apart, of course, from its jewellery stores.

Traditional and contemporary jewellery from across the country will be available.
The Senior Auto Mall
The auto showroom will have a 10-storey display.
Banks and insurance companies will have small branches in the mall, to aid convenience in buying.
There will be a test-driving track on the terrace of the building.
Celebration banquet and food court for launch parties as well as post-purchase family celebrations.
Powered by