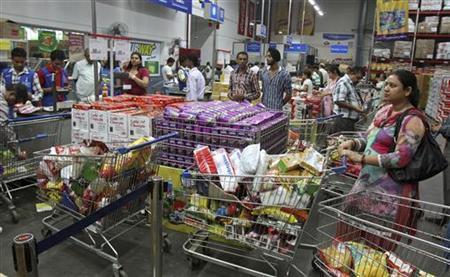 Soon, one will be able to pay electricity bills at the local supermarket, while buying groceries, with the Reserve Bank of India (RBI) allowing the setting up of payment banks.
By RBI guidelines, payment banks will be allowed to open current and savings bank accounts with deposits of up to a maximum of Rs 1,00,000 per customer.
They can issue debit cards and offer services like remittance and utility bill payments. They can also distribute simple financial products like mutual funds and insurance.
Since there is no restriction on the income levels of those who wish to open accounts in payment banks, those who have salary accounts in regular bank accounts can also open an account in a payment bank.
Individuals can use the payment bank account to make daily or monthly cash transactions, either through debit card or through mobile.
This can also help guard against debit card fraud, since you can keep a smaller balance in these accounts.
Students living away from home would also be able to use facilities of payment banks to pay their fees.
Small businesses — that have five or six employees — can operate salary accounts in payment banks, instead of paying out cash.
While a full-fledged commercial bank offers all these services, they charge fees and also have stringent Know Your Customer (KYC) norms.
In a payment bank, KYC norms may be simplified and charges may be lower, says Ajay Srinivasan, director, Crisil Research.
"Payments banks will target the non-banking population. So, they might have linient KYC norms. Also, as they will be more technology-intensive, their fees would be lower than regular banks."
For a retail chain, a payment bank can also be a good way to retain customers. "If a customer deposits money with a supermarket and uses its banking facilities, they will remain loyal to the store.
The store can also offer other services to the customer.
So, you can pay your bills while shopping. Similarly, mobile companies also want to retain customers, as the cost of acquiring a new customer is higher," says Abizer Diwanji, national head of financial services, EY India.
Payment banks may also offer a higher rate of interest on savings bank accounts, in order to attract customers, adds Diwanji.
However, Pramod Saxena, the founder and chairman of payment services firm Oxigen Services says the real attraction for customers, will not be the interest on deposits, but the convenience of carrying out banking transactions at their doorstep.
"Payments banks will earn interest on deposits and will definitely pass this on to their customers. But since they cannot earn from credit (which is the biggest revenue stream for banks), one can't say if payment banks can offer higher interest rates," Saxena says.
The biggest advantage of a payment bank is that it can provide the last-mile connectivity, which regular banks cannot. So, it is possible that your neighbourhood store can function as a bank branch.
While many of them already offer payment services through companies like Oxigen, now, as banks, these will be regulated.
Naveen Surya, managing director, ItzCash, which provides pre-paid card solutions, says that those customers who currently use pre-paid cards for paying utility bills or salaries to their staff could be the natural target for payment bank. "The critical service for payment banks would be remittance services," he says.
Both Oxigen and ItzCash are looking to set up payments banks.