The government also wants to build floating hotels and helipads to increase tourism along rivers.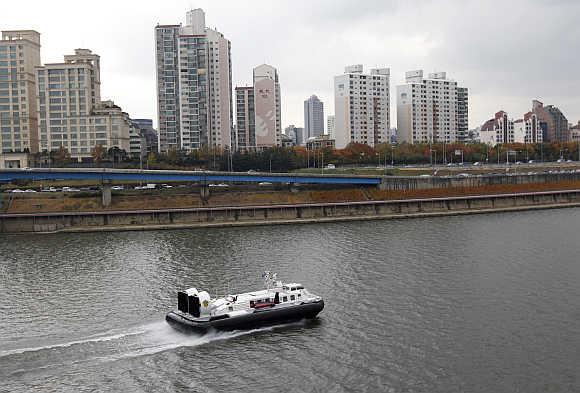 Cleaning the famed Yamuna may require a secondary sewage line and cost Rs 4,000 crore (Rs 40 billion) but you could soon be skipping over the river and whatever remains of it, by travelling at 60 km an hour on a hovercraft between Agra and Delhi.
The government has held meetings with British companies for making hovercraft in India.
Renewing his thrust on private investment in the sector, Union minister Nitin Gadkari said at Ficci's 87th annual general meeting here on Saturday that the government was looking at the possibility of manufacturing these at the defence ministry's Goa shipyard.
If the project goes through, the Taj Mahal would be connected with the national capital not just with an expressway but a hovercraft.
Mughal emperor Shah Jehan's Taj Mahal built in the 17th century on the Yamuna bank gets Agra over a million foreign tourists annually.
The river has since moved away from the monument and largely remains empty on the stretch between Delhi and Agra.
Though the government wants to ensure five metres of water depth in the Yamuna, hovercraft, unlike boats, are capable of travelling even over land, mud or ice and other surfaces. T
hey use blowers to produce a large volume of air below the hull that is slightly above atmospheric pressure.
The pressure difference between the higher pressure air below the hull and lower pressure ambient air above it produces lift causing the hull to float above the running surface. Besides hovercraft, the minister of highways, transport and shipping, who himself has driven amphibian buses in Stockholm, wants to try these in India, too.
Like hovercraft, these buses can traverse both land and water for a journey.
The NDA government has been lying emphasis on developing waterways, especially on the Ganga, considered the holiest of Indian rivers.
The National Waterway 1, a 1,620-km stretch of the Ganga from Allahabad to Haldia is planned to be developed with a Rs 4,200-crore or Rs 42 billion budget.
In June, the Centre had made a proposal to the World Bank to revive NW1, later named Jal Marg Vikas in the Budget speech of finance minister Arun Jaitley.
The government wants to build floating hotels and helipads to increase tourism along the rivers. Gadkari asked the private sector for increased investments in the waterways transport sector.
He further emphasised the need for eschewing road and rail transport for environmental and economic reasons. "China's share in transporting goods through waterways is over 44 per cent while India's is 3 per cent. The sector needs private investment.
It's the cheapest and most efficient means of transportation," he stressed.
Image: A South Korea coast guard hovercraft patrols on Han River in Seoul.
Photograph: Jo Yong hak/Reuters