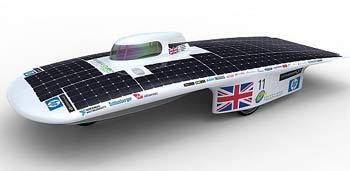 A solar powered racing car 'Endeavour' developed at the University of Cambridge in the United Kingdom has hit the road for the first time with a test drive, exhibiting its cutting-edge engineering efficiency.
The car made its debut on the test track at Ford's Dunton Technical Centre on August 15. It was the only full test-drive before travelling to the other side of the globe to take part in the Global Green Challenge - a 3,000-km race across the Australian Outback this autumn.
Named 'Endeavour', the car has been designed by Cambridge University Eco-Racing, a student team based at the University's Department of Engineering.
The test drive gave journalists and sponsors a chance to experience its cutting-edge sustainable engineering, aerodynamics and electrical efficiency for themselves. The vehicle, which is one of many projects marking the University's 800th anniversary this year, has already won the praise of Formula 1 driver Jenson Button, who unveiled it at the Goodwood Festival of Speed earlier this year and praised its 'impressive' design.
Endeavour's chassis is an aluminium spaceframe with a 6m² covering of high-efficiency silicon cells that capture energy from the sun. Underneath, the car is an ultra-efficient electric vehicle which designers believe could provide a model for future technological developments in 'green living'.
It can run at 60mph on the same power as a hairdryer, meaning that it requires 50 per cent less power than a normal, petrol-fuelled vehicle.
The Global Green Challenge will take place from October 25th-31st. During the race, four student drivers will pilot the car in four hour shifts using an advanced cruise-control system which will automatically adjust the speed according to road conditions and weather forecasts.
The students have raised the money to support the venture entirely by themselves. Current sponsors include Cambridge Precision and HP. CUER previously designed a prototype vehicle 'Affinity' which was driven from John O'Groats in June 2008 making it the only solar car to have driven legally on UK roads.
The team aims to uncover the possibilities of sustainable engineering whilst developing their own technology in order to lower carbon emissions.
Image: The solar-powered Endeavour. Photograph, courtesy: University of Cambridge