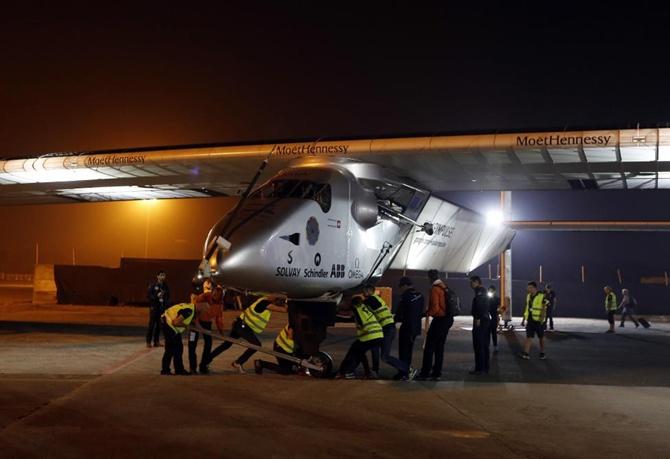 The world's only 'zero-fuel' aeroplane 'Solar Impulse-2' was caught in red-tape after its departure was delayed from the city for want of Customs and Immigration clearance, even as its pilot held the 'administration' responsible for the delay.
Swiss pilot Bertrand Piccard, who had flown the airplane from Muscat to Ahmedabad, did not get clearance from the Immigration department as well. His co-pilot Andre Borschberg today flew the world's first solar-powered aircraft from here to Varanasi.
"The delay is...administration, its papers, its stamps. I am not here to accuse anybody. I just say since five days we are trying to get over stamps (clearance) and everyday, it (concerned authority) says it's tomorrow, and every tomorrow it's again tomorrow and since five days we are desperate to get over stamps and now we still have stamps missing," said Piccard.
A senior airport official said that the Customs and Immigration departments failed to give clearance to the Solar-Impulse-2 (SI-2) team.
"There was an issue of Customs and Immigration. There is a rule of giving transport clearance to a foreign aircraft to sanction its take off. However, in this case, Customs failed to give the transport clearance," said the official.
"They (Customs) were well aware what the Solar Impulse-2 is and also knew that it was supposed to take off from the city on March 13, its first scheduled departure. However, since five days they are delaying their flight on the issues of Customs and immigration clearance," he added.
However, a senior Customs official said the SI-2 is a foreign aircraft, which needs a clearance from the department.
"As they are a foreign aircraft team, they need to have Customs clearance, but they could not obtain it," he said.
Photograph: Amit Dave/Reuters