Since global carriers are enhancing flight frequencies in India, staff which have been pinks slips by SpiceJet may be picked up by the former.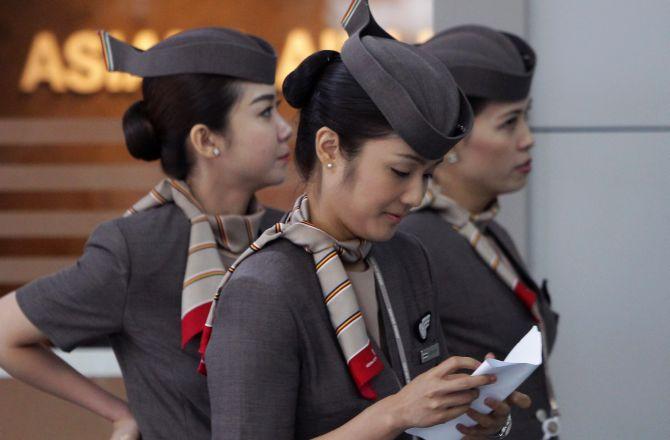 Image: Asiana Airlines crew prepare to board their flight at the Incheon International Airport.
Photograph: Chung Sung-Jun/Getty Images
Cash-strapped SpiceJet has been trimming its workforce, particularly by reducing the number of pilots and cabin crew members.
But this is unlikely to lead to a job crisis in the domestic civil aviation sector, given that many other airlines, especially the new ones, are going to take delivery of 35-40 new aircraft next year; that might create enough new jobs in the market to absorb those removed by SpiceJet.
Besides, there also is the recruitment being done by Etihad, Emirates and flydubai, the West Asian carriers expanding fast in India.
Before the present financial crisis at SpiceJet broke out, the airline had a little over 400 pilots. According to DGCA, the number has come down significantly, with some 132 commanders and pilots resigning.
The sector expects the number of resignations to go up to 200, since the carrier has trimmed its Boeing fleet from 37 aircraft to 17.
SpiceJet declined to share specific numbers, but going by market norms — 25 cabin crew members for every aircraft — its workforce could lose around 500 cabin crew employees as well. In 2015, market leader IndiGo is going to add to its fleet 16 planes, including the four A-320 Neos that are to be delivered in October.
Similarly, Air Asia India, the new kid on the block that currently has only three aircraft, could induct between 10 and 12 aircraft if it sticks to its plans.
Vistara, a Tata-Singapore Airlines joint-venture full-service carrier that is likely to begin operations in the second week of January, plans to introduce five aircraft to its fleet by March — it has already received two of those. Though it has not declared this publicly, it is likely to add more aircraft from April to December as well.
Besides, it will not be unreasonable to expect Go Air, Jet Airways, and other new entrants like Air One and Pegasus Air, to also get more aircraft.
According to sector norms, each aircraft requires about 10 co-pilots and commanders.
This implies the addition of aircraft by the various airlines next year will create 350 to 400 vacancies for pilots, in addition to 625 to 1,000 cabin crew openings.
The issue that might arise, though, is that the SpiceJet pilots have been flying Boeing aircraft, while most carriers that are expanding, except Jet, operate Airbus planes.
But that should not be too big a problem is to solve. A senior executive of a leading domestic carrier says: "We are already talking to many of these pilots as we want to hire under our expansion plan. All they have to do is take a conversion training course that takes a about four months."
He agrees, however, that the ground staff will be among those most affected, as many airlines are looking to save cost through multi-tasking.