The new ePOS devices launched to curb corruption are proving to be more of a hassle than a boon.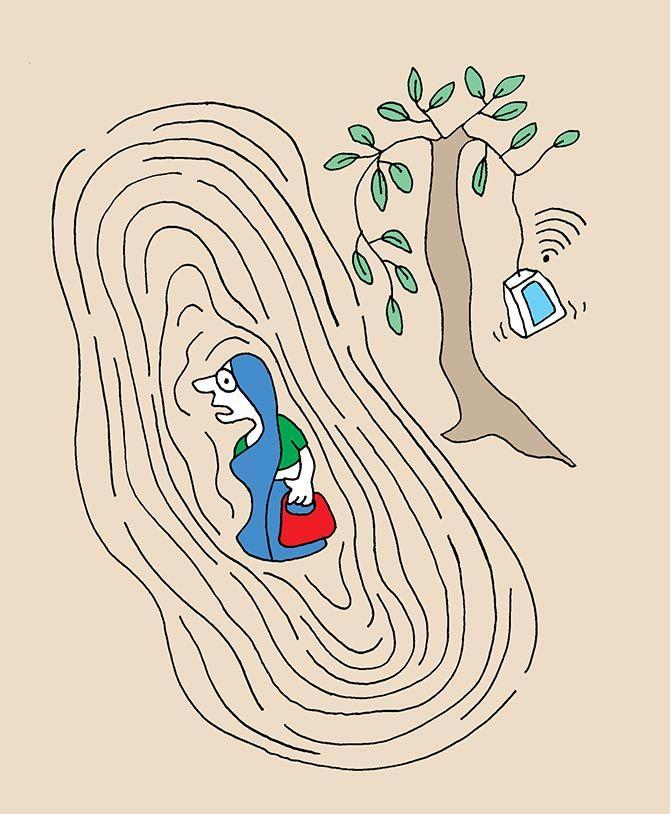 F
our months ago, fair price shopkeeper Om Prakash complained about the lack of network connectivity affecting the functioning of his new electronic point of sale (ePOS) device that identifies beneficiaries through biometrics.
His complaint was attended to, but since his shop is close to the airport, network connectivity was an issue. Eventually, his ePOS device was hung on a distant jamun tree to catch better signals. Om Prakash would sit under the tree, verify the biometrics of his customers there, and return with his customers to the shop in the afternoon to disburse rations.
At another fair price shop in Old Delhi, customers say they massage their work-calloused fingers with cream before coming to the shop -- else their fingerprints don't match.
Meanwhile, the mandatory linking of Aadhaar cards to subsidised ration disbursement, a precursor to the implementation of ePOS devices, has prompted people in some of Delhi's poorest neighbourhoods to get these cards for their children under five -- even though biometric measurements of children that young change with age, and are, therefore, useless to record. "When my neighbour applied for an Aadhaar card for her three-month-old, they literally had to pry the infant's clenched fists open to get his fingerprints!" claims Babita Devi from Savitri Nagar.
A
cross the 32 pilot locations in Delhi where the new POS devices are being tested before being introduced in the 2,500-odd fair price shops across the capital, irate customers from the neediest strata of society have many such absurd tales to tell. "The complaints against the ePOS devices and linking of Aadhaar cards with ration disbursement in Delhi show that these new measures have become a means of excluding a section of people that urgently need food subsidies from the PDS," says Anjali Bhardwaj of the public accountability and Right to Information watchdog Satark Nagarik Sangathan.
At their Sheikh Sarai office, groups of women sit clutching the hastily-made Aadhaar cards of their young children, waiting for their names to be added to their ration cards. SNS has recorded 1,500 complaints related to the National Food Security Act in the past few months alone. In their audit of fair price shops with pilot ePOS devices, they have found these to be no more efficient than the old shops. In fact, they report that, of the 42 ePOS devices originally installed in Delhi, 10 have already become non-functional.
It is chaos
Mohammed Tauseef, a fair price shopkeeper in Old Delhi, explains some of the practical issues he has faced using ePOS devices. First, he claims the server is often down, rendering biometric comparison impossible. Second, the devices are probably not meant for such heavy usage, and break down often. "My machine has been under repair for the past four days, and I haven't a clue when I'll get it back," he says. "In the meantime, under this new system, I can't sell the stock languishing inside my shop to my 2,600 cardholders!"
H
owever, the most nagging problem he faces is that fingerprints taken at the spot often don't match the ones on record. "Age, speed of network connection, callouses on fingers, improper biometric recording in the first place -- for any or more of these reasons, 30 out of 100 customers return without ration from my shop because their biometrics don't match!" he says. "Once this happens, I can't sell them the foodgrain that is their due -- even if their photo matches their appearance, or even when they're the poorest of the poor with a per capita monthly income of less than Rs 250."
He complains that long lines build up as each individual case takes ages to resolve. "If this system is implemented across Delhi without any improvements, there will be chaos everywhere!" he prophesies.
Om Prakash complains that his commission on sales has decreased because of so many failed transactions. If it weren't for the government accommodation that he's occupying, he says he'd have quit months ago.
Getting it right
FOOD FOR ALL?
Preliminary findings of an ongoing audit of 254 fair price shops across 15 circles in Delhi by Satark Nagrik Sangathan
Over 60% were found to be closed when visited during working hours
Over 70% did not display the requisite information in terms of the entitlement of cardholders
Over 70% did not display the prices of wheat, rice and sugar for different categories of ration cards
Snapshot of audit findings of fair price shop in Chandni Chowk
2,323 Total number of card-holders attached to shop
1,832 (79%) Successful transactions using biometrics measurements as per Aadhaar records in August 2016
1,697 (73%) Successful transactions using biometrics measurements as per Aadhaar records in July 2016
Source: Satark Nagarik Sangathan
Creating a pan-Indian biometric database for the public distribution system (the central government has reportedly budgeted Rs 879 crore for this scheme, while states will spend Rs 393 crore on it) has some merits. Not only does it ensure that subsidised foodgrain is available only to people with bona fide ration cards, it also imposes a check on fair price shopkeepers, allowing them to only sell to those whose biometrics match.
However, this ambitious scheme will succeed only if the government learns from the mistakes made in the pilot studies. Tauseef suggests a tamper-proof override system in case biometric identification fails. "A computer-generated OTP [one-time password] could be sent to the customer's registered phone number for verification," he says.
Also, he advocates phasing out the current tablet devices as they are short-lived and costly to repair. "They can be easily replaced by special software installed on our laptops," he says.
Bhardwaj and other RTI activists believe that fair price shops should be forced to maintain a noticeboard displaying accurate stock information and a list of card-holders.
"Transparency would make the system more accountable to the beneficiaries -- just as they're being held accountable to the government through these ePOS devices," she says. "We must understand that biometrics addresses only one sort of corruption -- fake ration cards. Without enforcing accountability on government departments, we aren't even making a dent on other aspects of corruption in the PDS, viz, poor quality of food grain; erratic supply; non-issuance of ration cards and more."
Clearly, biometrics in India faces a long and rocky road ahead. Meanwhile, 'smart' ration cards need to become much smarter to plug the leakages in the PDS in India.