Realtors split on possibility of price fall, gold may replace cash in secondary deals.
Raghavendra Kamath and Karan Choudhury report from Mumbai and New Delhi.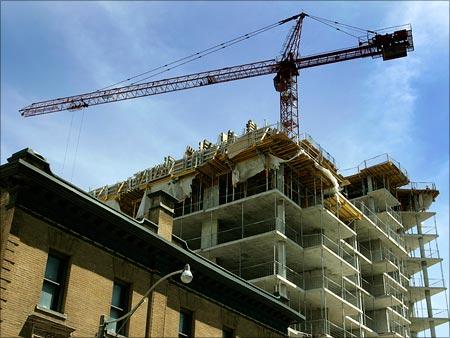 Secondary home sales market will be badly hit by the government's move to demonetise Rs 500 and Rs 1,000 notes and might even wipe out many small developers.
According to developers and investors, about 20 per cent home sales in secondary market happen with a cash component.
Cities such as Delhi-NCR, Hyderabad, Ahmedabad, Surat and Baroda are said to have more deals with higher cash component.
"I do not think that it would have an impact on the organised sector, but the unorganised and smaller developers would be wiped out," said Mohit Arora, managing director, Supertech.
Parveen Jain, president, National Real Estate Development Council, a body of realtors, said, "The market of premium homes, where smaller developers deal and cash transactions are prevalent, would be finished."
It is a major move which will help curb unaccounted-for cash in the real estate sector, said Anuj Puri, chairman and country head, JLL India.
"The effects will be far-reaching and immediate, and shake up the sector in no uncertain way," said Puri.
Amar Merani, chief executive, Xander Finance, a non-banking financial company, said the move could bring down prices of units in the secondary market.
"We could witness a 10 to 15 per cent reduction in resale prices of apartments, but I don't expect significant impact on prices of stock being sold by developers due to this decision," he added.
A PE investor said, "Not everyone can do all-white deals. Those who are desperate to sell can cut prices to sell off their assets... It would weed out component of black money from the system."
However, a chief executive of a property development firm said he expects the prices to go up because now the seller would make provision for capital gains. "Now they will price it with the capital gains component," he said.
The CEO said he believes gold could replace cash in secondary home sales as gold is equally popular in the country.
Turbulence for offline travel biz
Online companies eye big gains, reports Ajay Modi.
The tourism industry, growing at strong double digits, may face a temporary setback as Rs 500 and Rs 1,000 notes go out of circulation.
Apart from impacting the business of offline travel agents, the move may create a temporary inconvenience for foreign visitors carrying notes of these denominations.
The decision will benefit the online travel economy and impact business of the traditional travel agents who accept cash payments.
Sharat Dhall, president at online travel company Yatra is upbeat. "It is a great step to clean up the cash economy and move towards a cashless system. There was always a customer who was not keen to buy from us due to his preference to make cash payments. The decision is a great opportunity for online travel agencies as we offer transparency and convenience," he said.
The move will benefit companies like Yatra, MakeMyTrip and ibibo. Currently, only 15 per cent of hotel bookings happen online and this number can rapidly move up.
In airlines, almost half of the bookings take place online and this is also expected to get a push.
Since many users only wanted to make cash payments, a number of online booking channels were forced to introduce flexible payment options where the user could pay at the hotel and in cash.
FindMyStay, a start up that allows travellers to bid a tariff that is lower to standard hotel rates, had recently introduced an option to pay at the hotel.
"A number of customers are not comfortable using cards to make an online payment. They prefer to pay cash. That is why many traditional travel agents still see a business," Rohit Khetrapal, co-founder said recently.