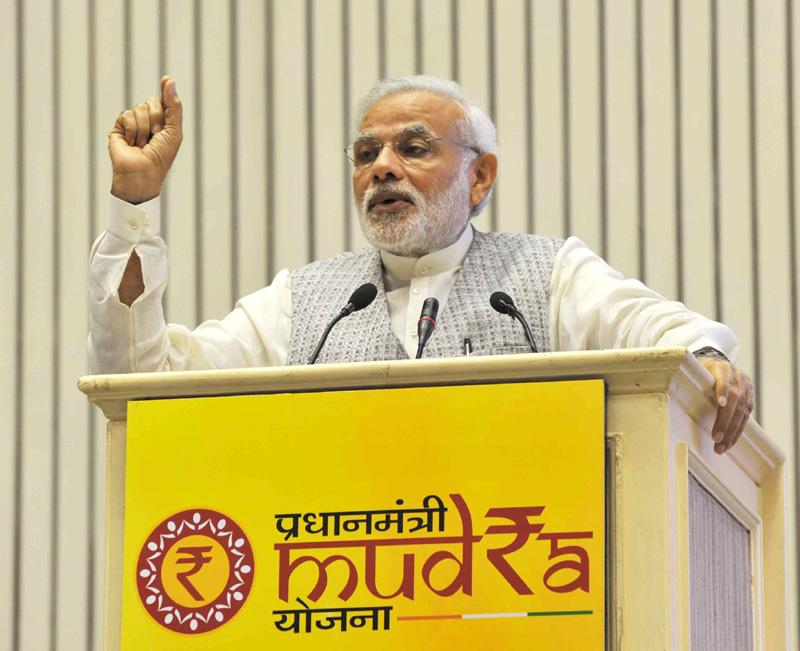 Prime Minister Narendra Modi on Wednesday launched the MUDRA Yojana that will offer loans to 'fund the unfunded' self-employed as well as small businesses, up to Rs 10 lakh at low rate of interest.
The Micro Units Development and Refinance Agency Ltd (MUDRA) will focus on the 5.75 crore self-employed who use funds of Rs 11 lakh crore and provide jobs to 12 crore people, he said.
"A look at the details reveals the reality that only 1.25 crore people find employment in large industries, whereas small enterprises employ 12 crore people... MUDRA scheme is aimed at funding the unfunded," Modi said.
The Pradhan Mantri MUDRA Yojana, which has a corpus of Rs 20,000 crore (Rs 200 billion), can lend between Rs 50,000-Rs 10 lakh to small entrepreneurs.
It has been set up for development and refinancing activities relating to micro units. It will provide refinance to banks and other institutions at 7 per cent.
Explaining the functioning of MUDRA, Financial Services Secretary Hasmukh Adhia said micro finance institutions (MFIs) and non-banking finance companies (NBFCs) can avail of loans from MUDRA for onlending to the borrowers.
MUDRA has been registered as an NBFC with the Reserve Bank, Adhia said, adding that within a year, the government intends to come out with a legislation to convert the NBFC into a bank.
He further said that MUDRA would act as a subsidiary of SIDBI and there would be no overlap with the functioning of the two. It will also help in developing MFI sector.
"We would encourage more MFIs to be created. So the purpose of MUDRA is to create as many MFIs as possible which can actually give same kind of eco-system and services which are avail now to these poor people. It will provide much needed fund at poor people doorsteps at a reasonable rate of interest," Adhia said.
He added: "We rely too much only on commercial banks and unfortunately commercial banks are comfortable lending to people who want more than Rs 10 lakh. Their main forte has never been micro finance and that is what we are targeting."
The roles envisaged for MUDRA include laying down policy guidelines for micro enterprise financing business and registration of MFI entities as well as their accreditation and rating.
"The lending rate would be decided on the risk margin that MFI will undertake... We would put some restrictions on interest rate because you are using my fund, MUDRA fund. Then you cannot lend more than the prescribed rate. That rate would be decided by board of the MUDRA NBFC," Adhia said.
The government has already appointed Jiji Memon as the CEO of MUDRA. Memon was a NABARD Chief General Manager.
In his Budget 2015-16 speech, Finance Minister Arun Jaitley had proposed the setting up of MUDRA.