However, despite the reduction, their interest rates would be about 50-100 basis points higher than those of banks.
Illustration: Uttam Ghosh/Rediff.com
Small finance banks, which have been defying the trend of cheap money and are offering as much as nine per cent interest on deposits, are now falling in line and reducing interest rates.
ESAF, Suryoday, Capital Local Area Bank and Fincare Small Finance Bank are a few of these banks planning to reduce interest rates on deposits by 25-50 basis points in the next one month.
Many small finance banks are increasingly facing stress on their margins because of non-payment of dues following last year's demonetisation.
However, despite the reduction, the interest rates offered by these small finance banks will be 50-100 basis points higher than those offered by larger banks.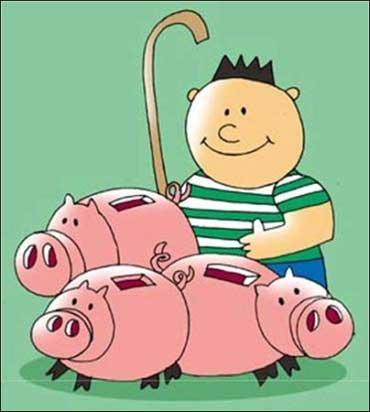 "We reduced interest rates on deposits by 25-50 basis points recently for different maturities.
We will be reducing rates by another 25-50 basis points by December," said R Baskar Babu, MD and CEO, Suryoday Small Finance Bank, which is offering an interest rate of 8.75 per cent for a period greater than 24 months and less than 36 months.
"As interest rates are coming down, we too will take a call in that direction," said Rajeev Yadav, chief executive, Fincare.
Kerala-based ESAF has reduced the interest rate on its savings account from 6 per cent to 4 per cent on deposits up to Rs 100,000.
"There is scope for a further reduction in interest rates.
Also, we have offered interest rates on a par with small finance banks and have been following interest rate trends in banks like HDFC Bank and State Bank of India," said Sarvjit Singh Samra, managing director, Capital Local Area Bank.
All small finance banks offer interest rates on term deposits up to 200 basis points higher than market rates to replace high-cost loans taken by them as microfinance institutions.
The highest interest rate on term deposits offered by the Varanasi-based Utkarsh Small Finance is 8.5 per cent.
The bank has set itself a target of mobilising at least Rs 2,000 crore in deposits by the end of March. The bank will consider a reduction in interest rates after December.
"Towards the end of the fourth quarter we will consider a reduction in rates," said Govind Singh, MD and CEO, Utkarsh Small Finance Bank.
Recently, Equitas reported its second-quarter net profit had declined 76 per cent to Rs 10.91 crore from Rs 46.34 crore a year ago on higher expenses and provisioning for bad loans.
Similarly, Ujjivan Financial Services reported a Rs 75 crore loss in the first quarter on a consolidated basis.
Much of the loss was on account of non-payment of dues of around Rs 150 crore in states like Karnataka, Maharashtra and Uttar Pradesh after demonetisation.
While offering high rates of interest on deposits, most small finance banks price their loans on the higher side. At present, their lending rates are between 14 per cent and 16 per cent.