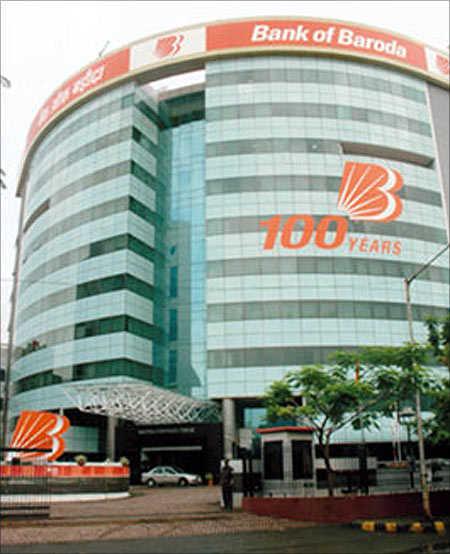 Bank's branch head, forex ops chief among those held
Six persons, including Bank of Baroda's branch head at Ashok Vihar, New Delhi, and an HDFC Bank employee, were arrested on Tuesday in connection with trade-based mechanism to launder money from the bank's branch.
BoB on Monday said the total value of illegal remittances through its Ashok Vihar Branch in New Delhi was $546.10 million (Rs 3,500 crore), much lower than Rs 5,151 crore (Rs 51.51 billion) estimated by the Enforcement Directorate and Rs 6,000 crore (Rs 60 billion) by the Central Bureau of Investigation.
CBI arrested BoB's Ashok Vihar branch head S K Garg and the foreign exchange head of the bank branch, Jainis Dubey, for criminal conspiracy and cheating.
ED, which is jointly probing the case, arrested Kamal Kalra, working with the foreign exchange division of HDFC Bank and three other individuals -- Chandan Bhatia, Gurucharan Singh Dhawan and Sanjay Aggarwal (none of them working with any bank) -- after marathon questioning at its office here.
ED said the modus operandi used to launder money involved trade-based mechanism, where accused traders evaded custom duties, taxes and over-claim duty drawbacks to generate slush funds.
Later, a Delhi court permitted ED four-day custody of the four accused for interrogation.
On Tuesday, shares of BoB fell 0.40 per cent at Rs 176.10.
All the accused, ED said in a statement, were alleged middlemen for at least 15 fake companies, out of the total 59 involved in perpetrating the economic crime unearthed recently and also being probed by the CBI.
ED said the four allegedly connived in 'forming' fake companies and business entities overseas, particularly in Hong Kong by 'overvaluing' the export value and subsequently claiming duty drawbacks.
For this overvaluation, such exporters require forex in the foreign country equivalent to overvaluation.
Similarly, unscrupulous importers, importing items where customs duty is high, undervalue imports in order to save customs duty, and for this purpose, importers also require availability of forex in foreign country to pay the difference.
ED investigations under the Prevention of Money Laundering Act claimed that the HDFC Bank employee was allegedly helping Bhatia and Aggarwal in remitting the amount through BoB against a commission of 30-50 paise per dollar remitted abroad.
Bhatia was allegedly instrumental in forming the companies in India and used to remit money to companies based in Hong Kong.
Dhawan, an exporter of readymade garments, helped Bhatia. Aggarwal was allegedly successful in sending tainted foreign remittances worth Rs 430 crore (Rs 4.3 billion) through BoB's branch in Ashok Vihar in a short span of time.
Sources further said more arrests of similar middlemen and other operatives, including BoB employees, could take place in the near future.
The agency is also probing a case for forex contraventions under the Foreign Exchange Management Act.
ED said BoB on Monday informed it that "the total amount deposited in the 59 accounts is Rs 5,151 crore (Rs 51.51 billion) and only 6.66 per cent (Rs 343 crore or Rs 3.43 billion) of this amount has been deposited in cash in the bank, while the remaining Rs 4,808 crore (Rs 48.08 billion) came through other banking channels."
CBI sources had said these remittances were sent by splitting them into amounts below $100,000 to avoid automatic detection by software used by banks to alert them about such transactions.
Sources had found that the Ashok Vihar branch of the bank was a relatively new one which had obtained permission to entertain forex transactions only in 2013.
CBI found that an estimated Rs 6,000 crore was transferred through nearly 8,000 transactions done between July 2014 and July 2015.
CBI and ED had raided the premises of the bank branch and residential complex of both Garg and Dubey over the last weekend.
The agency had alleged forex worth around Rs 6,000 crore (Rs 60 billion) was sent in collusion with 59 current account holders and bank officials, all of them to Hong Kong, in violation of established banking norms under the guise of payments towards suspected non-existent imports.
Both the agencies pursued the case after an internal investigation by the bank showed Rs 6,172 crore (Rs 61.72 billion) was sent from India to Hong Kong for import of cashewnuts, pulses and rice, but nothing was imported and the money was deposited in 59 bank accounts of several companies.
During investigation, CBI found that most addresses given by the companies were either false or the companies did not exist at the said addresses.
Most of the forex related transactions were carried out in newly-opened current accounts wherein heavy cash receipts were observed, but the branch did not generate exceptional transaction report and did not monitor the high-value transactions, a CBI spokesperson had said.