The Sino-US stand off on reforming the Chinese currency regime continued despite China's assurances to reform its currency yuan gradually, Chinese official media has said.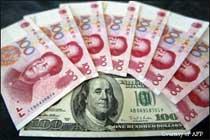 "Revaluing the renminbi (the Chinese currency) is not a good recipe for resolving problems," China Daily quoted China Vice-Commerce Minister Zhong Shan, who is visiting Washington to told the US officials that Beijing will reform its currency regime gradually and keep the exchange rate stable, as saying.
Rejecting mounting US calls to allow the yuan to rise more quickly, Zhong said changing the exchange rate was not the way to fix a huge bilateral trade gap, and that it could upset the global economy.
"It is in nobody's interest - China's, the US' or other countries' - to see big ups in the renminbi or big downs in the dollar," Zhong said.
He asked Washington not to blame others for its own problems, "otherwise, the outcome would just be the opposite".
Zhu Min, deputy governor of the People's Bank of China, the central bank, also said on Thursday that Beijing will refine its exchange rate regime but declined to set a timetable.
US Treasury Secretary Timothy Geithner said it was critical for China to allow its currency to rise. "We can't force them to make that change," he said in an interview with CNN. "But it is very important that they let it start to appreciate again. And I think many of them understand that."
US Senators are crafting a law that would slap import duties on Chinese goods to offset what they believe is the low value of its currency.
Referring to vice-foreign minister Cui Tiankai, who was on a transit visit in Washington earlier this week said that he received promises from high-level US officials that Washington "attaches great importance to China's stance and concerns on issues related to Taiwan and Tibet" and would "cautiously handle the sensitive issues".
Ministry spokesman Qin Gang said on Thursday at a regular press briefing that the visits aimed to "clarify China's positions and policies and listen to opinions from all quarters in the US" to seek a solution to the current problems.
Shi Yinhong, an expert on American studies at the Renmin University of China, said the latest developments are not a clear signal of mending ties.
"Washington should take positive steps (to show its sincerity). For instance, whether it will go ahead with the move to label China a currency manipulator in April is crucial in defining bilateral relations," the daily quoted him as saying.