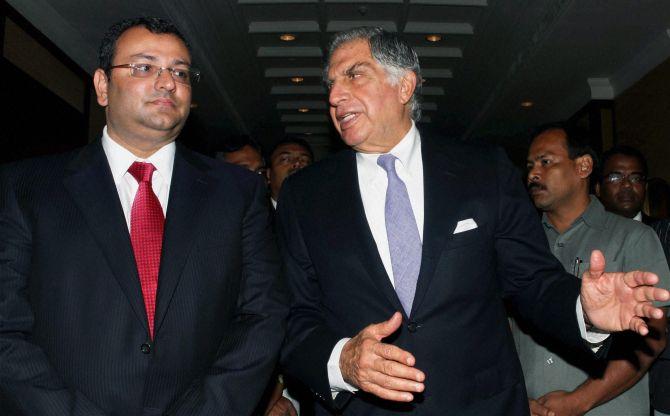 Senior lawyers Abhishek Manu Singhvi and Harish Salve have been retained by Tata Sons to advise them on the fallout of the changes at the top, a top source told Business Standard, refusing to share details about the assignment.
The two were also part of the legal team that advised Mukesh Ambani in his high-stakes gas-pricing battle with brother Anil.
Tata Group expects to do some tightrope walking on legal issues in the days ahead. The sudden decision to bring back former chairman Ratan Tata to replace Cyrus Mistry as chairman of Tata Sons has created uncertainty at the country's premier business group and experts have raised corporate governance concerns. They have questioned the way the investors were kept in the dark till the last moment, and the lack of details and rationale in the official announcement.
There is also speculation on the reaction of the Mistry family, which controls 18.5 per cent of the shares in Tata Sons. Cyrus Mistry is married to Rohiqa Chagla, daughter of senior lawyer Iqbal Chagla. However, the Shapoorji Palonji group has denied media reports that they'd challenge the Mistry removal in the courts.
Earlier, former Union finance minister and senior advocate P Chidambaram and Mohan Parasaran, former solicitor general, were consulted before the board meeting that voted unanimously to replace Mistry.
There are also reports about opinion having been sought from former Supreme Court judge R V Raveendran.
The ultimate holding company of Tata Group firms has appointed a five-member search committee to find a replacement for Mistry. On Monday evening, in a letter to group employees, Ratan Tata said the board had requested him to perform the role of chairman and he'd agreed to do so "in the interest of stability of and reassurance to the group".
However, a brief statement by Tata Sons did not give any reasons for the sudden move. The turnover of India's largest conglomerate dropped to $103 billion in 2015-2016 from $108 bn the previous year. Net debt rose to $24.5 bn (Rs 1.63 lakh crore) in March from $23.4 bn a year before.
Image: A file photo of Ratan Tata (left) with Cyrus Mistry. Photograph: PTI Photo.