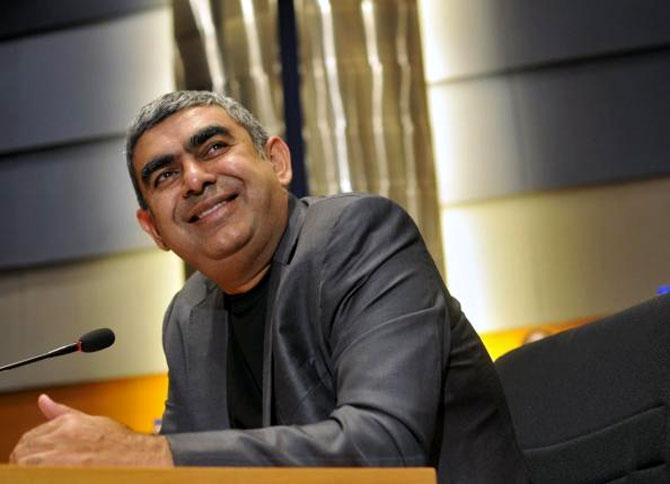 Infy board gets law firm to probe 'lapses', appoints Cyril Amarchand Mangaldas to engage with founders.
The board of directors at India's second largest software exporter, Infosys, asserted its independence and appointed law firm Cyril Amarchand Mangaldas to engage with the company's founders over concerns raised by the latter on disclosures and transparency.
The law firm, along with corporate governance experts, is to recommend to the board the next steps.
In a statement late on Thursday, the company said it was committed to fulfilling its fiduciary responsibility to act independently and in the overall interest of the shareholders.
The board, denying there were governance lapses, said it supported its chairman, R Seshasayee, and chief executive officer Vishal Sikka on the latter's strategy to transform the information technology (I-T) services entity.
"Vishal and the board, while being pleased with the company's resumption of industry-leading performance on many parameters, are keen to further accelerate the progress and achieve even more shareholder value increase, on the foundation of sound governance. We will remain undistracted with this focus," said Seshasayee in the statement.
The board underlined that the majority of shareholders had approved on the concerns raised by the founders, such as Sikka's pay, severance packages to former Chief Financial Officer Rajiv Bansal and Chief Compliance Officer David Kennedy.
There were concerns over the high compensation to Sikka and selection of board members D N Prahlad and Punita Sinha, which board member and Biocon Chairman Kiran Mazumdar-Shaw has dismissed as issues that have been resolved.
Sikka, first non-founder chief executive of Infosys, has set a $20-billion annual revenue target by 2020, with operating margin of 30% and revenue per employee of $80,000. To achieve this, he has pushed the company to adopt automation, retrained employees on new skills and begun selling software along with services.
Since taking over the job in August 2014, Sikka has brought in changes, pushing employees to retrain in design thinking, brought in a 'zero distance' programme to better utilise engineers on projects and increasingly adopt automation-based businesses that focus on higher margins.
Earlier in the day, Sikka rallied the company's employees to focus on execution of the company's strategy and not to get distracted on questions over commitment to governance, integrity and values of the organisation.
He justified his business decisions, saying Infosys's performance matched industry performance from 50% down two years ago, and having held margins through efficiency and automation, helping better cash flow generation.
"There is no second-guessing our deep commitment, passion and dedication to transforming this great company, even within the unprecedented new context that we find ourselves in. We are doing this. We will do this. Together!" wrote Sikka in an e-mail to employees, after the founders raised red flags on governance and disclosure norms. "Let us not get distracted by media speculation."
Sikka has been among the first IT leaders to talk of disruption in the sector due to automation and pricing pressure.
The protectionist policies of Donald Trump in the US and Theresa May in the UK are also weighing on Sikka, who wrote "and now a new broader global context that will influence all of these things along the way… while we should all be proud of these numbers, we must keep in mind that these results are but footprints, consequences, of our work. The short-term milestones are simply those, and they point to our progress on our longer-term path".
Sikka said Infosys's top 10 new software and services (Mana, Skava, Edge, Panaya, Cloud Services, Cloud Migration, Mainframe Modernization, API economy, BI Renewal and Cyber Security) now produce about $110 million in quarterly revenue, from around "22 million in Q2 of FY15, and seven of these did not even exist then".
Image: Infosys CEO Vishal Sikka. Photograph: Abhishek N Chinappa/Reuters