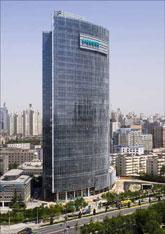 Technology major Siemens on Tuesday said it will invest Rs 1,600 crore (Rs 16 billion) in India over the next three years for venturing into wind turbine manufacturing and scaling up existing production capacity.
The company also looking at raising headcount in India from 17,000 at present to 25,000 by 2012.
Of the total investment, Rs 500 crore (Rs 5 billion) would be used for setting up a high-end technology wind turbine manufacturing facility in the country.
"We will venture into wind turbine manufacturing . . . we have identified 2-3 sites in Tamil Nadu and Gujarat and we are in discussions with the respective state governments for setting up the wind turbine plant. We will decide on the exact location in 2-3 weeks," Siemens managing director (India) Armin Bruck said.
The plant would be operational by 2012 and will produce turbines with a capacity of 200 MW per year initially.
Realising great business opportunity in the energy sector in the country, the company also plans to have presence in solar power, Bruck said, without giving further details.
The rest of the investment will go in research and development activities as well as augmenting manufacturing capacity for its products in signalling and metal technologies and healthcare solutions.
On the back of capacity addition and new products, the company expects revenues to jump 10-fold to Rs 6,500 crore (Rs 65 billion) by 2020 from Rs 650 crore (Rs 6.50 billion) at present.
Siemens plans to make six hubs in India for design and development of its product range which will also act as sales points domestically as well as for the international market, Bruck said without giving further details.
Siemens will also look for opportunities in the airport and ports sectors, Bruck said, but declined to give specifics.
"India is expected to grow at 7 per cent this fiscal and at 8 per cent in the next. India has the people, the products and the innovation power. That's why we are expanding our presence here," Siemens AG president and CEO Peter Loescher said.
The company makes telecom equipment, electrical devices, X-ray machines and hearing devices among others.
In a filing to Bombay Stock Exchange, Siemens said it has bagged an order worth Rs 100 crore (Rs 1 billion) from the state-run Power Grid Corporation for construction and enhancing of substations in Uttar Pradesh and Haryana.
The works would be completed by January next year, it further said.