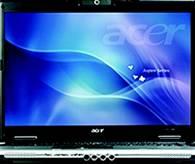 Over 35,000 women from villages across Andhra Pradesh are now using laptops to record financial activities of their self-help groups (SHGs).
Making this possible is the Society for Elimination of Rural Poverty (Serp), which operates among the poor women through SHGs. The society conducted a pilot on e-bookkeeping in Bibinagar, a mandal in Nalgonda district where it trained these women in using laptops.
"The traditional book keeping is viewed as drudgery," says Y V Raghunadha Reddy, state project manager of Serp.
The members have to enter the savings of each SGH member, their loans, repayments, revolving funds, income and expenditure for the group activities and share capital of each of the SHG in a village organisation.
The data can be uploaded to the Serp server for statewide accounting and evaluation.
The success of the pilot project at Bibinagar prompted Serp to expand it to the rest of the state. Now, women from 35,000 village organisations have received laptops and the required training.
"We conducted a training session of one week for these women in different districts. They are now able to operate the device and upload the data. We have selected the women who can identify English alphabets and are aware of terms such as income, expenditure, loan and repayment," Reddy says.
Besides, the aim is to equip women with the latest technology and knowledge to enable them to earn more money for the family, he says.
The programme is sponsored by the World Bank. The laptops are owned by Serp, but are with the women.