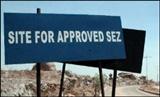 The problems of the Special Economic Zones with the blueprint on Direct Tax Code, which does not envisage I-T exemption to units in these areas, are being dealt at the "highest level", a senior Commerce Ministry official said on Tuesday.
"We are confident that the status quo will be there...the issue has been taken up at the highest level," additional secretary in the Commerce Ministry D K Mittal said at a function of the Export Promotion Council for EOUs and SEZs (EPCES).
The SEZs are peeved over the fact that the proposals in the Direct Tax Code do not provide for continuation of the income tax exemptions to those units which are entitled for profit-linked reliefs.
"SEZ developers and SEZ units cannot wait till 2011 (expected date for new tax regime) for getting a clarity on this issue. Unless and until this is clarified immediately, the investment under the SEZ scheme would be effected adversely from now onwards," EPCES Director General LB Singhal said.
Chairman of the EPCES R K Sonthalia has written to Prime Minister Manmohan Singh and Finance Minister Pranab Mukherjee requesting that the government should immediately issue a clarification and uncertainty should be resolved.
The SEZs have attracted an investment of over Rs 1.10 lakh crore (Rs 1.10 trillion) and exports from the units were valued at around Rs 1,00,000 crore in 2008-09. Till now, a total of 579 SEZs have been approved and 335 of them have been notified.