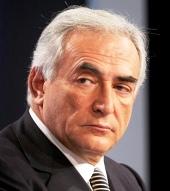 Months after former International Monetary Fund chief Dominique Strauss-Kahn was accused of sexually assaulting a hotel maid, an investigative report shedding fresh light on the incident implies that the one time French presidential hopeful may have been set up in a conspiracy to discredit him ahead of the country's 2012 polls.

The report titled 'what really happened to Strauss-Kahn?' published in the New York Review of Books states that Strauss-Kahn's Blackberry, which the IMF chief referred to as his 'IMF BlackBerry' had been 'hacked' and later went missing.

It also describes a video footage of two hotel staff performing a three minute 'dance of celebration' and 'high-fiving' each other after learning that hotel maid Nafissatou Diallo had accused Strauss-Kahn of assaulting her on May 14.

Author of the article Edward Epstein said, "I didn't say it was a political conspiracy but I would say that people wanted to find evidence of an indiscretion that could derail either his candidacy or even [his work at] the fund."

He said Strauss-Kahn was the victim of a conspiracy to 'destroy him as a political force' by having him convicted of the rape of a 32-year-old chambermaid in his suite.

The report says that Strauss-Kahn had received a text message on the morning of the incident from a woman friend who worked at the Paris offices of the UMP, President Nicolas Sarkozy's political party.

She had warned Strauss-Kahn, 'who was then pulling ahead of Sarkozy in the polls,' that a private e-mail he had sent from his BlackBerry to his wife, Anne Sinclair, had been read at the UMP offices in Paris.

"It is unclear how the UMP offices might have received this e-mail, but if it had come from his IMF BlackBerry, he had reason to suspect he might be under electronic surveillance in New York.

He had already been warned by a friend in the French diplomatic corps that an effort would be
made to embarrass him with a scandal.
"The warning that his BlackBerry might have been hacked was therefore all the more alarming," the report said, adding that the Strauss-Kahn later lost the phone and it has still not been found.
The report further said footage from a video surveillance camera shows 'two men high-five each other, clap their hands, and do what looks like an extraordinary dance of celebration that lasts for three minutes.'
This comes minutes after they learn that Diallo had complained of being sexually assaulted by Strauss-Kahn.
Further, the report states that security expert at Sofitel, John Sheehan, spoke to a 'man with a heavy French accent' as he was on his way to the hotel after being told of the sexual assault on Diallo.
Sheehan's superior at French-based Accor Group, which owns the Sofitel, is a 'well-connected' former chief of theFrench anti-gang brigades, who before joining Accor had worked closely in the police with the current coordinator for intelligence for President Sarkozy.
The
Review
also raises questions about a guest in a room near Strauss-Kahn's suite, where the maid had swiped her security door card three times the morning of the attack.
The Sofitel has refused to identify the guest citing privacy rules.
According to Epstein, hotel key-card records show that Diallo was in room 2820 with a mystery man immediately before and after her sexual encounter with Strauss-Kahn, suggesting he might have been an accomplice.
The Sofitel's electronic key records show that apart from Diallo, another person had entered Strauss-Kahn's suite while he was showering.
Meanwhile, Accor Group has rebuffed Epstein's conspiracy theory, describing it as 'absolute fantasy'.
It said in a statement that the three minute dance of celebration 'in fact lasted eight seconds, with both employees filmed on CCTV categorically denying that their exchange had any connection whatsoever with Strauss-Kahn'.
Image: Dominique Strauss-Kahn