Amid decelerating economic growth and falling industrial output, India's services sector has shown signs of promise in May recording the fastest pace of growth in the past three months, says an HSBC survey.

According to HSBC's India PMI, services sector activity grew at a faster rate in May at 54.7 as against 52.8 in April.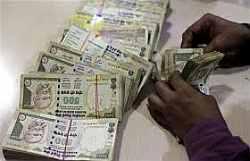 The composite index for manufacturing and services rose to 55.3 as compared to 53.8 in April, mainly on the back of the improvement in services.

India's services sector activity in May posted encouraging results, suggesting that growth momentum of the country is "holding up", according to HSBC India Services PMI for May.

The momentum improved with business activity and new business flows rising at a faster pace. Moreover, sentiments about the outlook also improved, suggesting that services sector activity should hold up reasonably well, it said.

However, the lagged effects of monetary tightening, a weak global backdrop, and persistent domestic policy paralysis will keep growth below its historical averages, the survey said.

The outcome of the survey comes amid gloomy GDP numbers. India's economic growth rate slowed to a 9-year low in March quarter at 5.3 per cent, and 6.5 per cent for the entire 2011-12 fiscal.

Moreover, the manufacturing sector output also contracted by 0.3 per cent in January-March 2012 against rise of 7.3 per cent in the year-ago
period.
On a sequential basis, however, the GDP growth rate and PMI numbers suggest that the growth momentum may not be that weak and inflation pressures are likely to remain firm.
Accordingly, HSBC said, "Any further easing in monetary policy cannot, therefore, be aggressive and has to be approached with caution."
The Reserve Bank of India is scheduled to announce mid-quarter credit policy on June 18.
Relying too much on loose macroeconomic policy settings to boost economic situation may lead to increasing inflation rates, which is partly the result of the policy paralysis in recent years and the associated slow implementation of structural reforms, the report said.
"The inflation-growth trade-off has to be improved primarily through efforts to ease the policy paralysis and, associated with this, gain traction on supply side reforms," Leif Lybecker Eskesen Chief Economist for India and ASEAN said.
Meanwhile, inflation is expected to remain firm on the back of rising input costs and the ability of businesses to still pass these on to clients.
Moreover, tax increases and adjustment in diesel, and kerosene prices are expected to add to inflation pressures in coming months, HSBC said.