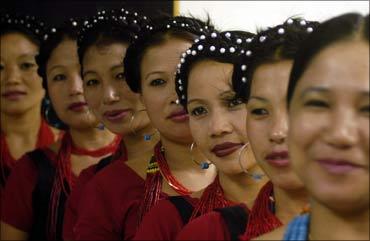 Services sector contracted for the second consecutive month in June as new orders declined for the first time in 14 months, an HSBC survey said on Friday.
The contraction, coupled with decline in manufacturing growth rate, may add to the clamour for further rate cuts by Reserve Bank of India.
The HSBC India Services Business Activity Index, which tracks changes in activity at service companies, fell to 47.7 in June, down from 49.6 in May -- its lowest level since March 2014.
The index went below the crucial 50 mark, which separates growth from contraction, for the second straight month.
"June's Indian service sector data disappointed, with reductions in both activity and new business accelerating since May," Pollyanna De Lima, economist at Markit, which compiles the data, said.
Underlying the drop in services activity was a further contraction in new business as respondents said competitive pressures and extreme heat took a toll on the services sector.
"The heatwave and competitive pressures were again reported to have weighed on service providers' performance.
"However, companies are hopeful of turning the corner in coming months, with confidence regarding the 12-month outlook remaining strong," Lima added.
Meanwhile, service providers raised employment further in June.
The rate of job creation was, however, only marginal and slower than the long-run series average.
Confidence among Indian service providers remained strong in June, with panelists on balance expecting activity to increase over the coming 12 months.
Meanwhile, the Nikkei India Composite PMI Output Index, which maps both the manufacturing and services sectors, fell to 49.2 in June from 51.2 in May, below the crucial 50-level for the first time since April 2014.
On prices, it said transmission of rising services costs was reflected in a further increase in output prices in June.
However, charges were raised only at a modest rate.
"On the positive side, inflation rates softened in June. Weaker rises in input costs and output charges were seen across both the manufacturing and service sectors," Lima said.
Lima further said: "All in all, latest data suggest that RBI's commitment to support economic growth may result in further rate cuts at its August meeting, probably the last in 2015."
In June 2 policy review, RBI had cut repo by 0.25 per cent for the third time this year to spur investment and growth, but hinted that there may not be any more cuts in the near term.
RBI cut the repo rate (short-term lending rate) from 7.5 per cent to 7.25 in June, but left all other policy tools such as cash reserve ratio (CRR) and statutory liquidity ratio unchanged at 4 per cent and 21.5 per cent, respectively.
The image is used for representational purpose only. Photograph: Reuters