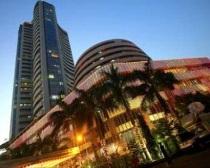 The markets recovered from the day's low to end in the green, disregarding to the pessimism that seems to have enveloped the European and Asian bourses.

The Sensex after touching a low of 17,278 recovered 250 points to a high of 17,527 on fresh hopes the EU bailout will be passed by the Greek Parliament.

Things turned around after the Greece ruling party withdrew support and asked the Prime Minister to resign, thereby raising hopes that a referendum to the latest EU bailout package may not be needed.

The index finally ended flat at 17,482. Nifty ended at 5,265 - up seven points.

The BSE benchmark indices had opened lower this morning following global mixed cues as the Asian markets charted a different course vis-a-vis their American counterparts.

While Wall Street had rebounded overnight from two days of sharp losses on the back of Fed's willingness to do more for the economy, with the Dow adding 1.5% and S&P 500 gaining 1.6%, the Asian bourses fell off the cliff on fears that Europe's debt crisis could unleash financial chaos worldwide.

And the brittle start to the proceedings in Europe only aggravated the nervousness across Asia, with the Hang Seng dropping more than 2% and the Straits Times, Taiwan and Seoul slipping more than a percent each.

While our markets have been undeterred by the European fears, the last hour of trade will decide whether we manage to retain the resilience at closing.

Global markets would be looking at Friday's Group of 20 (G20) meeting at Cannes for direction as policy makers try to solve the debt crisis.

In other news, according to government data released today, food inflation rose to 12.21% during the week ended October 22, with expensive vegetables, pulses, fruits and milk, putting more burden on the common man.

Food inflation, as measured by the Wholesale Price Index, stood at 11.43% in
the previous week.
Finance Minister Pranab Mukherjee expressed grave concern over rising food inflation, even as he attributed the latest spike in prices to increased demand during the festive season.
Meanwhile, India's service sector contracted for a second straight month in October, as new business grew at its weakest pace since May 2009 dragged by sagging global demand and tight monetary policy.
The seasonally adjusted HSBC Markit Business Activity Index, based on a survey of around 400 firms, slumped to 49.1 in October, its lowest reading in two-and-a-half years and below the 50-mark which separates growth from contraction. It was at 49.8 in September.
Also, the bail pleas of DMK chief Karunanidhi's daughter Kanimozhi has been rejected. Sharad Kumar, Rajeev Agarwal, Karim Morani and Asif Balwa's bail plea have been dismissed.
The Central Bureau of Investigation did not argue in the court against the rejection of the bail pleas. The 2G trial has been scheduled to start on November 11.
Reliance was the top contributor in the Sensex's recovery.The stock moved up 1.5% at Rs 885.
BHEL, Bharti Airtel, DLF and Tata Power moved up 2-4% each.
Meanwhile, Hindustan Unilever dropped 2% to Rs 382. Tata Motors dropped 1.7% to Rs 189.
Among metal stocks, Sterlite and Tata Steel shed 1.5% each. ICICI Bank and HDFC Bank from the banking shares and Infosys and Wipro from the IT space dropped 1% each.
"All major IT stocks of the IT Index are in a strong down trend for medium & long term.
I shall suggest to stay away from these stocks for coming 3 - 5 months as these stocks are expected to under perform. Strategy for swing traders could always be to hunt for opportunities to go short sell on these stocks at every rise with a two week highest level as stoploss," said technical analyst Ravi Nathani.
BSE market breadth was negative.
Out of 2,930 stocks traded, 1,459 shares declined and 1,330 shares advanced.