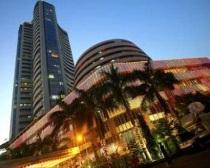 After last week's strong rally, the undercurrents fizzled out on Monday with markets falling half a per cent each.

The Sensex, after opening soft on global cues, had recovered to a high of 17,813 on the back of banking and IT shares.

However, the index dropped once again to a low of 17,668 endng finally at 17,705 - down 100 points.

Nifty ended down 34 points at 5,326.

Asian markets ended in the negative zone on Monday.

Hang Seng dropped 0.7% to 19,864.

Seoul Composite and the Straits Times slipped over 1% each to 1,909 and 2,869, respectively.

In Europe, the CAC and DAX dropped 1.5-2% each in trades. FTSE was down 1% at 5,641.

Most of the sectoral indices ended in the red with oil & gas index leading the losses - down 2% at 8,987.

BSE metal and auto indices lost 1-2% each.

Meanwhile, banking and FMCG shares gained smartly after heavyweights came out with their results.

BSE FMCG index added 1% to 4,196 while Bankex gained 0.7% at 11,454.

ICICI Bank reported a net profit of Rs 1,503 crore, up 21.70% from Rs 1,236 crore in the same quarter last fiscal.

Net Interest Income has been declared at Rs 2,506 crore. The stock was down marginally 0.3% at Rs 931.

Among other banking names Dena Bank, Oriental Bank of Commerce, Corporation Bank and Dena Bank came out with quarterly
numbers.
Hindustan Unilever from the FMCG pack, posted a net profit of Rs 689 crore for the quarter ended September 30, 2011 as compared to Rs 566 crore in the year ago period. The stock gained 7.3% to Rs 375.
Meanwhile Dabur posted a net profit of Rs 173 crore for the second quarter ended September, 2011.
Colgate Palmolive added 0.4% to Rs 1,003 after Q2 net decreased to Rs 100 crore.
Wipro shed 1.7% after gaining smartly in opening trades.
The company reported 1% year-on-year (y-o-y) growth in net profit to Rs 1,301 crore for the quarter ended September 2011 helped by a weaker rupee and rise in spending on outsourcing by overseas clients.
Analysts expected a net profit of Rs 1,294 crore from the India's third largest software services exporter in the recently concluded quarter.
Among other stocks, Textile shares surged on news that the Union Ministry for Textile has granted an integrated Textile Park for Tripura.
Reports suggest that the implementation of the park will be finalised within the next 36 months.
This is likely to generate employment to 700 textile workers in the state.
The state government would provide lands and construct the park as per specification of the ministry at a grant of Rs 40 crore and also help in its trading in the markets of the country.
STL Global, JJ Exporters, Jamshri Ranjitsinghji Spg & Wvg Mills, Riba Textiles and Vippy Spinpro surged 8-19% each.