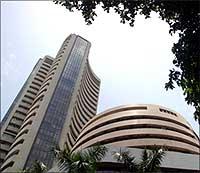 As Asian stocks fell, the domestic markets opened on a soft note, with IT stocks weighing down on the bourses, after two consecutive sessions of gains the previous week.

Shrugging off weak Asian cues, due to an increasing nuclear contamination threat in Japan around the ill-fated Fukushima Daichi nuclear plant, along with unabating civil unrest in Libya, the domestic markets logged gains for the sixth consecutive day, as the Sensex closed up 128 points at 18,943, while the Nifty ended at 5,687 up 33 points.

Having gained during the late morning session on the back of strong buying in FMCG and auto stocks, the Sensex soon slipped to the day's low of 18,799.57, owing to weakness in heavyweights Reliance and Infosys.

In the early afternoon session, buying in banking and capital goods stocks saw the markets regain lost ground again, with the Sensex scaling the 19k mark a little after 1400 hrs, for the first time since January 24.

The markets witnessed choppy sessions today, even though they traded in a positive band, with the derivatives expiry, due on Thursday, along with a year-end reshuffling of positions, imparting a volatile element to the markets.

Investors were seen booking profits during intra-day peaks, as the bourses lodged gains for the sixth consecutive day on Wednesday.

Technical analysts expect markets to maintain an upward trend in the medium term.

Devangshu Dutta, a technical analyst, said, "The markets look bullish; support for the Nifty is seen at 5,650, and the resistance is at 5,700.

"An upside above 5,750 will be driven by break out in the financial stocks."

Engineering major Larsen & Toubro, auto giant Tata Motors and homegrown telecom conglomerate Bharti Airtel contributed 28, 18 and 14 points, respectively, to the Sensex on Wednesday.

The Sensex was driven by Tata Motors at Rs 1,220, Bharti Airtel at Rs 348 and L&T at Rs 1,639 all up 3%. Other major gainers on the Sensex were Reliance Infra, Maruti Suzuki, Hindustan Unilever and NTPC, up by nearly 2% each.

Losers on the benchmark were Jaiprakash Associates at Rs 88 down 2%, Reliance Communications at Rs 105 also down 2% and Sterlite Industries at Rs 167 down 1%.

Infosys at Rs 3,140 and DLF at Rs 247 were also down nearly 1% each.

In the broader markets, the Mid-cap index was up less than half a per cent at 18,943, while the Small-cap index was flat at 8,012.


Auto stocks were in top gear today, and the index gained nearly 2% at 8,982. Amongst the top gainers, Tata Motors led the pack, followed by Maruti Suzuki at Rs 1,202 up 2% and Cummins India at Rs 662 up a little over 1%. Apollo Tyres, Bajaj Auto, Ashok Leyland and Hero Honda also gained between 0.7% to 1%
each.
The Capital Goods index closed up a little over 1% at 13,184, with L&T leading the gains up nearly 3%. Alstom Projects was at Rs 570 up 2%, while Praj Industries gained slightly over 1% at Rs 74, followed by ABB, Punj Lloyd and BGR Energy all up 1%.
Financials also witnessed a lot of buying today, with the index touching 13,082 up 1%.
The signifcicant gainers on the index were IndusInd Bank at Rs 264 up 4.5%, IDBI Bank at Rs 146 up 4% and Fedearl Bank at Rs 396 up 3%. Bank of Baroda up 2%, SBI, Axis Bank, HDFC Bank and Union Bank, all up 1%, were some of the other stocks that advanced in this space.
However, maintaining a fairly subdued outlook on the banking sector, Harendra Kumar, Head Institutional Equities & Global Research, Elara Capital, said, "I believe the banks would trade sideways in the medium-term. We are not optimistic on the credit growth."
At close, healthcare stocks remianed on the weaker side on Wednesday, with the index declining 1% to 5,894. Aurobindo Pharma declined 6% to Rs 186, while Jubilant Life at Rs 149 was down 4% and Sun Pharma at rs 443 fell 3%.
Major Asian indices closed in the red on Wednesday, with the Nikkei off nearly 1% at 9,479, as nuclear radiation fears increased in the world's third largest economy.
A ripple effect was seen in most other Asian indices; the Hang Seng declined 0.4% to 23,068, while Singapore's Straits Times also fell 0.4% to 3,057.
The Taiwan Weighted ended down nearly 1% at 8,553.
However, the Seoul Composite at 2,056 was flat, with a positive bias, while the Shanghai Composite closed in the green up 0.2% at 2,984.
The European markets were trading flat at 1700 hrs, with France's CAC 40 at 3,975, the UK's FTSE 100 at 5,911, both in the green, while Germany's DAX was at 6,944, trading with a negative bias.