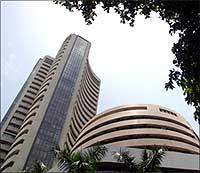 Following Thursday's strong rally, and upbeat Asian counterparts, our markets began the day on a positive.
The Sensex opened marginally higher at 17,668, and displayed extremely firm trend throughout the day.
The BSE benchmark index finally ended with a gain of 182 points at 17,834. The NSE Nifty ended up 55 points at 5,352.
The index has now gained 363 points in the last two trading days.
The Mdi-cap index performed in line with the Sensex, while the small-cap index lagged in the terms of gains. The Sensex was up little over 1%, the mid-cap index gained 0.9% while the small-cap index was up 0.4%.
The Realty sector was the best performing among the sectoral indices, up 2.5% at 3,264. The BSE TECk index, riding on the sharp gains in telecom stocks, logged a gain of 2.4% at 3,417.
The Metal, auto and Bankex too finished with considerable gains.
The FMCG index, however, ended in red at 3,208 - down 0.8%.
The market breadth remained positive through the day - out of 3,017stocks traded today on the BSE, 1,569 advanced and 1,321 declined.
INDEX MOVERS. . .
Telecom major -- Bharti Airtel led the gainers list with a near 10% surge at Rs 308. Reliance Communications added nearly 3% to Rs 193.
DFL soared 4.7% to Rs 296. HDFC Bank rallied 3% to Rs 2,003.
Hindalco, Mahindra & Mahindra and Tata Steel gained 2.% each. Tata Motors, Infoys, Sterlite, Jindal Steel, Maruti and  Jaiprakash Associates were the other major gainers.
. . .AND THE SHAKERS
Hindustan Unilever and ACC slipped around 1% each to Rs 262 and Rs 836, respectively.
VALUE & VOLUME TOPPERS
Bharti Airtel topped the value chart with a turnover of Rs 279.58 crore followed by HPCL (Rs 83.05 crore), Idea (Rs 79.63 crore), Persistent Systems (Rs 76.69 crore) and Tata Steel (Rs 75.09 crore).
FCS Software led the volume chart with trades of around 17.49 million shares followed by Birla Power (13.86 million), Idea (12.11 million), Bharti Airtel (9.20 million) and Sanraa Media (7.06 million).