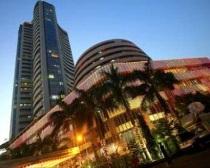 Markets ended the day with a loss as the government announced dismal IIP numbers this afternoon.

The BSE benchmark index declined from a high of 17,703 and touched a low of 17,516.

The BSE benchmark index finally ended down 40 points at 17,561. Nifty ended down 15 points at 5,323.

India's industrial production contracted 1.8% in June, driven down by a slump in manufacturing, government data showed today.

Analysts had expected a rise of 1% in June output, a Reuters poll showed. The output for May was revised to 2.5% from 2.4%.

Manufacturing, which constitutes about 76% of industrial production, shrank an annual 3.2% from a year earlier, the federal statistics office said.

"Latest data on IIP and manufacturing sector is disappointing and shows that Government and RBI need to take urgent steps to stimulate growth.

"The cumulative Manufacturing growth in the first quarter Apr-Jun 2012 is in the negative territory.

"Unless a quick action is taken now, it is possible that this trend will continue for the rest of the year.

For the year as a whole, manufacturing growth may show insignificant or no growth. This has obvious implications for overall GDP growth and job creation" said Harsh Pati Singhania -- Director, JK Organisation.

Rupee fell to 5. . . from a session high of 55.0450 after industrial output data shows an unexpected contraction, but the unit is still higher from its Wednesday's close of 55.42/43.

Asian shares inched up on Thursday with investors turning to data from China for any policy implications on future stimulus, amid guarded optimism for decisive action by Europe to tackle the euro zone debt crisis and global growth slowdown.

Nikkei was up 1.1% at 8,979 while Shanghai and Hang Seng added 0.6-1% each.

From the sectoral pack, fast moving consumer goods index continued their upward march and hit a new high on Thursday on the Bombay Stock Exchange.


The index was up 1.4% at 5,191.

However, BSE oil & gas index slipped 1% at 8,287,
followed by bankex and PSU indices.
Bharti Airtel shares fell for a second day to a two-year low as banks including Goldman Sachs and Standard Chartered cut their ratings on India's top telecoms carrier in the wake of disappointing quarterly earnings.
Goldman Sachs downgraded the stock to "neutral" from "buy" with a revised target price of Rs 270, saying it expected "relatively weak" operational momentum in Bharti's operations in India and Africa.
Standard Chartered cut Bharti to "in-line" from "outperform" and cut its target price to Rs 300 from Rs 380.
Nomura cut its target price on the stock to 280 rupees from Rs 295, but retained its "neutral" rating. Shares of Bhartio Airtel were down 6.4% at Rs 257.
Reliance Industries slashed natural gas reserves in its main production gas fields in the Krishna Godavari basin D6 block by 70% to 3.10 Trillion cubic feet (Tcf) due to "unforeseen geological surprises". RIL dropped 1.3% at Rs 780.
Among other losers were SBI and HDFC. Tata Motors dropped 1% to Rs 239 after reporting 12.26% increase in net profits for the first quarter ended June 30, 2012 at Rs 2,244.91 crore.However, Mahindra & Mahindra, Sterlite and Tata Power added 2-3% each.
Cairn India dipped 2% at Rs 320 after the company said its MD and CEO, Rahul Dhir, has decided to step down effective August 31, 2012 to pursue his entrepreneurial interests.
Power Finance Corporation (PFC) traded higher by 3% after reporting a 42% year-on-year (yoy) jump in net profit at Rs 972 crore for the first quarter ended June 30, 2012. Net interest income grew 41% at Rs 1,394 crore on yoy basis.
Apollo Tyres will invest Rs 300 crore in its Kalamassery unit in Kerala in the next two years and make it an export unit for industrial tyres, a top official has said. The stock jumped 5.2% to Rs 83.60 following the news.
BSE market breadth was negative. Out of 2,916 stocks traded, 1,613 shares declined while 1,165 shares advanced.