The gauge has erased nearly all gains recorded after Prime Minister Narendra Modi's party swept to power in May 2014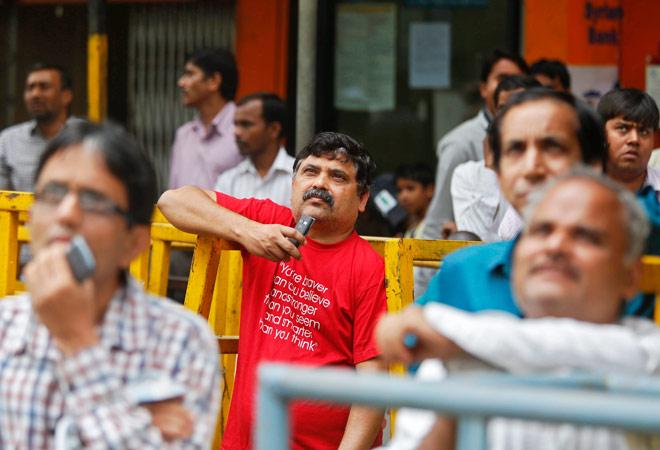 Indian equities extended losses for the third straight session, approaching a near-bear market zone, amid concerns over global economic growth and a sustained fall in crude oil prices.
The Sensex has slid 18.5 per cent from its January 2015 peak, nearing the 20 per cent level that some investors consider bear-market territory.
The gauge has erased nearly all gains recorded after Prime Minister Narendra Modi's party swept to power in May 2014, as news out of China coincided with the waning of euphoria surrounding Modi's economic agenda.
On Monday, the S&P BSE Sensex ended lower by 267 points, or one per cent, at 24,188, while the 50-share Nifty ended down 87 points, or 1.2 per cent, at 7,351.
The worst start to a year for global stocks extended into a third week as oil sank to a fresh 12-year low.
Brent crude oil briefly fell below $28 a barrel as Iran pledged to boost exports and Nomura Holdings Inc predicted a potential drop to $25.
The energy slump is fuelling concern over disinflation, just as the US embarks on tighter monetary policy and as anxiety over China's management of its slowing economy rattles markets.
"Investors continue to be worried about the state of the global economic recovery and negative macro-economic data only served to further stoke these fears," said Shreyash Devalkar, fund manager, equities, BNP Paribas Mutual Fund.
Foreign investors continued to pull money out of Indian equities.
On Monday, foreign institutional investors sold shares worth Rs 1,203 crore (Rs 12.03 billion), taking year-to-date outflows to over $1 billion.
Domestic institutional investors cushioned the fall, buying shares worth Rs 1,122 crore (Rs 11.22 billion) on Monday, provisional data showed.
A 14.7 per cent fall in exports in December last year, coupled with a widening of the trade deficit by 27.1 per cent during the same period, hit sentiment on Monday.
All sectoral indices on the National Stock Exchange traded in the red, with energy and media stocks leading the losers.
Reliance Industries tumbled 5.3 per cent on profit-booking, the most since August 24.
Bajaj Auto decreased 3.1 per cent to its lowest level since September 23, while Asian Paints retreated 3.3 per cent.
Asian markets ended lower on worries of a slowdown in the global economy and decline in global crude prices.
Nikkei 225, Hang Seng and the Straits Times slid more than 1 per cent. Shanghai Composite, however, bucked the trend and nudged higher by 0.4 per cent.
The European markets opened in the green but slipped in the negative territory on global cues. All the major European indices were marginally down between 0.05-0.2 per cent at 6.30 pm IST.
The S&P BSE SmallCap index tumbled 4.1 percent after capping its worst weekly loss in four years on Friday amid concerns about high valuations.
The S&P BSE MidCap index is valued at 24 times reported profits and the small-cap index trades at 53 times, compared with the Sensex's multiple of 18.3.
The valuation gap leaves 'room for further declines' in the smaller companies' shares, Alex Mathews, the head of research at Geojit BNP Paribas Financial Services, said by phone from Kerala.
Image: Worried traders look at the Sensex figures displayed on a screen at the Bombay Stock Exchange. Photograph: Reuters