Subramanian Swamy said if income tax is abolished, middle class will deposit money in banks which can be invested in manufacturing.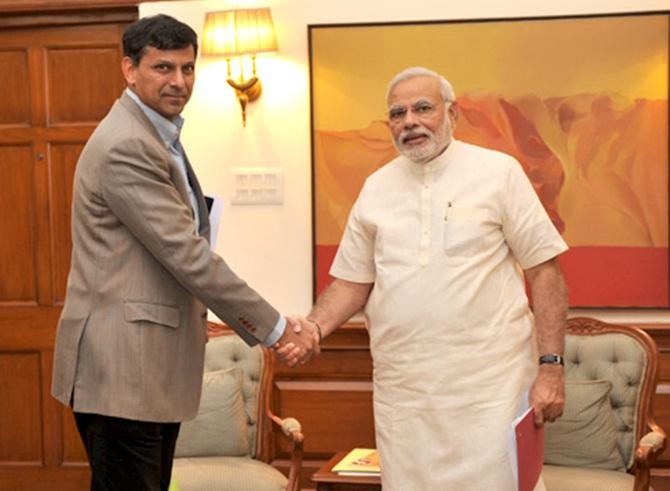 Image: During two years of the Narendra Modi government, India has seen a growth of around seven per cent. Photograph kind courtesy: Press Information Bureau
In a sharp attack on Reserve Bank of India Governor Raghuram Rajan, the Bharatiya Janata Party's Rajya Sabha MP Subramanian Swamy said "if India wants to see economic growth at 10 per cent, Rajan should go back to Chicago."
Speaking at the Indian Merchant's Chamber on Thursday, Swamy said nobody could have thought India's economic growth at seven per cent and above as seen today.

"During 1958, India's economic growth was 3-3.5 per cent. But, 7-7.5 per cent growth is a reality now. The only way to gain this economic growth is to go in for lower interest rate which, to my mind should be at 9 per cent," he said.
During two years of the Narendra Modi government, India has seen a growth of around seven per cent.

Next year, India will see a growth of nine per cent and 10 per cent thereafter. For that, however, income tax needs to be abolished, said Swamy.
The government collects Rs 2 lakh crore through income tax collections.

This amount, however, is half of the one auction of 2G spectrum through which Indian government collected Rs 4 lakh crore.

Individuals and households are the biggest savers today.

If income tax is abolished, the middle class would deposit money in the bank which can be invested in manufacturing and in turn for profits, he said.
Also, the black money kept in various overseas banks is estimated at 60 times of the money collected through income tax which is paid only by the middle class people as agricultural income is not taxed in India.

The loss in revenue through scrapping income tax can be compensated through investment in manufacturing and infrastructure which in turn would generate revenue for the government in the form of indirect tax, Swamy said.
Abolish agriculture futures
Swamy said part of the reason food prices are going up today is because large players buy cheap during the harvesting season and sell at profits in the lean season.

Farmers are left without profits. Hence, futures trading in agricultural commodities should be abolished.
Chidambaram mastermind behind NSEL scam
Attacking sharply on former finance minister of the United Progessive Alliance government P Chidambaram and his son Karti Chidambaram, Swamy said that the father and son duo are masterminds behind scam at National Spot Exchange (NSEL).

NSEL had faced a Rs 5,600 crore payment crisis in July 2013 which led to its promoter Financial Techologies (India) exit the exchange business.
"The money which you have lost is equivalent to what has been traced. Sebi started actions against NSEL brokers based on my letters to the Prime Minister Narendra Modi. You please wait for one year, you will get your money back. Somewhere you were also induced by greed of investors for quick money," Swamy said in response to a question by one of the NSEL investors.
Sonia and Rahul Gandhi to be held accountable
Citing profits earned in Deccan Herald's case, Swamy said that Sonia Gandhi and Rahul Gandhi will soon be accused in this case soon.

He will soon file case against congress leaders Kapil Sibbal and Chidambaram.

A Raja and Kanimozi would soon go behind bars in 2G spectrum scam, he added.
Swamy further quipped that if India needs to come back on fast growth, corruption should go away.