Senate Finance Committee leaders on Friday urged US Secretary of State John Kerry to press India to reverse government actions they said threaten millions of US jobs in pharmaceutical, information technology and creative industries.

"We cannot afford to sit back and watch as India adopts policies that adversely impact US innovative and creative industries, and threaten the greater stability of the international trading system," the top Democrat and Republican on the panel said in a letter.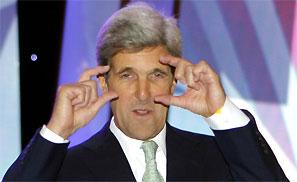 It was latest sign of growing frustration with Indian policies in both the US Congress and the business community. It came as Kerry is scheduled to head to India later this month for the fourth annual US-India Strategic Dialogue.

Last week, the US Chamber of Commerce, the National Association of Manufacturers and 15 other US business groups complained in a letter to President Barack Obama that "India is discriminating against a wide range of US exports."

Many of the same groups on Friday said they plan to launch a coalition next week called the Alliance for Fair Trade with India to continue pressure on the issues.

The House of Representatives Ways and Means Committee recently held a hearing
to let US business vent their concerns about India's policies.
Several senators added their voices to the chorus of complaints at a hearing two weeks ago on the nomination of White House international economic affairs adviser Mike Froman to be the next US trade representatives.
"We're very concerned about the innovation and the investment environment in India at the moment," Froman told the panel, saying the administration was consulting with industry about how best to respond to the actions.
In their letter, Senate Finance Committee Chairman Max Baucus, a Montana Democrat, and Senator Orrin Hatch, a Utah Republican, criticized India's use of "compulsory licenses" and other actions to allow its domestic drug manufacturers to make generic versions of patented US drugs.
"The misuse of patent law to hand US intellectual property to Indian companies is inconsistent with India's international obligations," they said.
India's high rates of copyright piracy, local content provisions and market access barriers also hurt sales of US movies, books, software, information technology products and telecommunications equipment, the senators said.
"US companies are losing major market opportunities in India, and other countries are watching to see how the United States reacts to India's actions as they consider the adoption of similar policies," they said.