Elaborate security arrangements have been made in the capital for the BRICS Summit to be attended by top leaders of Brazil, Russia, India, China and South Africa.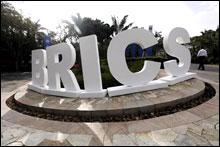 Around 2,000 police personnel and NSG commandos have already been deployed in the VVIP areas of the capital and especially near Taj Palace Hotel where the summit will take place on March 29.
Russian President Dimitry Medvedev, Chinese President Hu Jintao, Brazil President Dilma Rousseff and South African President Jacob Zuma will participate in the summit hosted by Prime Minister Manmohan Singh.
A senior police official said a three-tier security apparatus will be put in place at the five-star hotel.
The outer and middle cordon will be handled by Delhi Police while the second layer will include a team of special officials of Delhi Police.
The third layer will be handled by Delhi Police in coordination with embassy officials, police said.
The official said the floors above and below the suites, where these leaders will be staying, have been kept vacant.
Special emphasis will be given to ward off any protest by Tibetans near the hotel. Tibetans have threatened to protest against Hu Jintao during his visit.
Special traffic arrangements have also been made.
Photograph: Jason Lee/Reuters