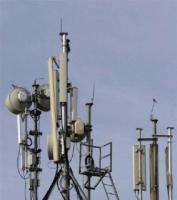 The much talked about 2G mobile phone spectrum auction ended in a damp squib on Wednesday with half of the airwaves on offer remaining unsold and government getting just about one-third of the targeted revenue.
According to preliminary estimates, the government received bids worth "much-less" than Rs 10,000 crore (Rs 100 billion) in an auction that ended in two days, a far cry from the 35-day bidding for the 3G spectrum in 2010 that got Rs 67,719 crore (Rs 677.19 billion).
The government was targeting Rs 28,000 crore (rs 280 billion) from the sale of 2G spectrum in the GSM band.
Videocon and Idea won spectrum in 7 circles while Telenor got spectrum in 6 circles. Airtel and Vodafone won spectrum in one circle each, industry sources said.
No comment was available from government officials.  None of the five companies in fray bid for a pan-India spectrum for which the reserve price was set at Rs 14,000 crore (Rs 140 billion) for 5 Mhz of airwaves.
The scant interest in the 2G auction was attributed to high base price.
The government had put on auction a substantial part of the spectrum that was freed from Supreme Court in February this year cancelling 122 mobile permits issued by the then Telecom Minister A Raja to nine telecom players in 2008.
The Comptroller and Auditor General of India (CAG) had in 2010 had said that the decision to give away spectrum at rates fixed in 2001 could have resulted in a presumptive loss of Rs 1.76 lakh crore to the exchequer taking the price garnered in the 3G auction as the benchmark.
The government thereafter fixed the base rate for 2G auction at almost equivalent to the third-generation (3G) auction price. Further, as the government has promised to refund the license free paid in 2008, the net gain to the exchequer may be almost nil.
The tepid response to the auction may mean that the government will find it difficult to meet the revised fiscal deficit target of 5.3 per cent of GDP.
Sources said metro cities of Delhi and Mumbai, which accounted for 40 per cent of the base price of Rs 14,000 crore (Rs 140 billion) for 5 MHz of 2G spectrum, drew no bids at all.
Bids in most of the circles were around the base price with the exception of Uttar Pradesh East and West besides Bihar. Infact, the auction got extended into the second day only on back of interest in Bihar circle.